Frio, viento, lluvia... el otoño ya nos acompaña. El lunes pasado salí de casa a las 7 de la mañana, me metí en el coche y lo primero que hice fue mirar los grados que hacían, 9 grados
°
C, como? mi atuendo constaba de un vestido de entre tiempo, una chaqueta fina y sandalias, menos mal que llevaba conmigo la chaqueta de cuero. Sin embargo hoy opte por unos botines ideales de Rebeca Sanver que tengo de invierno, y he llegado a casa como si saliera de una sauna, que calor! /
Cold, wind, rain... autumn is hear. Last Monday I get out of home at 7 a.m., I hope into my car and look at the degrees, 9
°
C, what? my outfit was made of a spring dress, light jacket, and sandals, luck I had my leather jacket with me. However, today, I wore a nice pair of Rebeca Sanver's winter ankle boots (they are my favorite), and I come home as if I were out of a sauna, too hot!
Efectivamente asi es el otoño, tan solo tienes que fijarte en la gente que anda por las calles, hay de todo, pasamos de abrigos a manga corta, de sandalias a botas altas, de vestidos veraniegos a jerseys de lana gorda. Es mas ayer vi a una chica con leotardos, que esta pasando? Podemos achacarlo al cambio climático, o a lo que queramos, pero el tiempo cada dia esta mas inestable, sera que la crisis también le ha afectado a su cambio de humor. Mi madre decía que "al mal tiempo buena cara", pues hagamos eso, disfrutemos de cada momento, en esta ocasión, disfrutemos de la bota reina por excelencia, la bota mosquetera o bota por encima de la rodilla, como queramos llamarla. /
Indeed, fall is just that way, you just have to look at the people on the street, you see everything, we go from a coat to a t-shirt, from sandals to boots, from summer dresses to wood sweaters. Yesterday I saw a girl wearing wool tights, what is going on? We can say is global warming, o whatever we want, but the weather is each day more unstable, the crisis we are into might affect his mood too. My mom use to say "If lives gives you lemons, make lemonade", let's do that, let's enjoy ever moment, this time let's enjoy the queen of the boots, the over the knee boot or knee high boot, whatever we call it.
La primera vez que hable de ellas fue en el 2009,
aquí
. Entonces te contaba que las botas de este tipo estilizan la figura ya que hacen que la pierna parezca mas larga, y que lo mejor es que buscaras unas con tacón, y de no ser posible unas mas bajitas pero con la punta afilada para que contribuyeran a esa estilización. Posteriormente, en 2010 volví a escribir
un post
sobre ellas. Si, seguían siendo tendencia aunque fueron relevadas por otros tipos de botas. /
The first time I wrote about them was in 2009, hear.
Then I told you that these boots stylized the figure, they make your legs look longer, and I told you that you should look for a high heels model although if you can't and prefer a kitten heel model they must be pointed so they contribute to the stylization. Lately, in 2010 I wrote
another post
about them. They were still in but were relieve for another kind of boots.
Este tipo de botas han estado muy presentes en películas y series, donde la vestimenta era casi tan importante como el guión. /
This short of boots were featured in movies and TV series, where the wardrobe were almost as important as the script.
Nine
Don't trust the B--- in apartment 23
El pasado mes de febrero diseñadores de la envergadura de Karl Lagerfeld para Chanel, Emilio Pucci, Philip Lim, Prabal Gurun, BCBG Max Azira, etc, utilizaron este accesorio para acompañar a sus colecciones de otoño-invierno 2013-2014. /
Last February designers such as Karl Lagerfeld for Chanel, Emilio Pucci, Philip Lim, Prabal Gurun, BCBG, ect, used this accessory to go with their fall-winter 2013-2014 collections.
Chanel FW 2013
Son las botas mas sexys y llamativas que existen, y por ello las mas difíciles de llevar. Tienes que saber ser elegante, y lucirlas con clase y estilo, de lo contrario, olvidate de ellas. /
They are the most sexy and flamboyant that exist, therefore are the most hard to wear. You have to know to be elegant, and wear them with class and style, other way, just forget them.
- Deja las botas altas de tacón de aguja para la noche, y opta por un modelo plano o con tacón gordo para el dia. /
Leave high heels boots for the evening and go for a more flat or stacked heel for the day.
- Si quieres lograr un equilibrio casi perfecto, como si se tratase del Partenon de Atenas, opta por ponértelas con un vestido con vuelo que termine justo por encima de la rodilla, o justo por debajo. No te las pongas unas botas mosqueteras de caña ajustada con una falda muy corta o parecerás Julia Roberts en Pretty Woman. /
If you want to right a perfect balance, as if it come from the making of Athenas' Partenon, wear them with a flowy dress that finish just over the knee or above it. Don't wear a tight leg boots with a short skirt or you would look like Julia Roberts in Pretty Woman.
- Si quieres ponértelas con una falda corta, mejor busca un modelo muy alto y que sea de caña ancha. Queda muy de desfile y no te pasarás de la rosca. /
If you want to wear them with short skirt, look for a more high wide leg model. It will make a catwalk look and you won't overstep the mark.
- Mejor busca unas en negro, porque te estilizan mas. Aunque, si ya tienes unas en negro, no es mala idea, hacerte con un par en marrón, cada vez se ven mas, y quedan divinas. /
Better look for a black pair, they stylize more. Althogh if you already got a black pair, is not a bad idea, a brown one, they are pretty popular and look divine.
- Intenta evitar las que tengan mucha plataforma, las botas ya son vistosas como para añadirles alicientes. Si quieres un poco de plataforma busca algunas que la disimulen o la tengan por dentro. /
Try to avoid those how have a lot of platform, these boots are snazzy enogh to add incentives. If you want some platform, look for a discree or a platform that is inside of the boot.
Han aparecido nuevas versiones de las botas mosqueteras, en moda todo vuelve pero se reinventa. /
They have appered to new versions of over the knee boots, in fashion everything comes but rewriting the rules.
Se llaman cutaway boots porque dejan entrever parte de la piel, ya sea por cordeles que las atan, agujeros que la decoran, espacios libres o sandalias gladiador que se convierten en botas. Una nueva forma de ver las botas. /
They are call cutaway boots, because they show part of the skin, that can be for the ropes that tight them, the holes that decorate them, non fabric parts, or gladiators sandals that turn into boots. A new way to see them.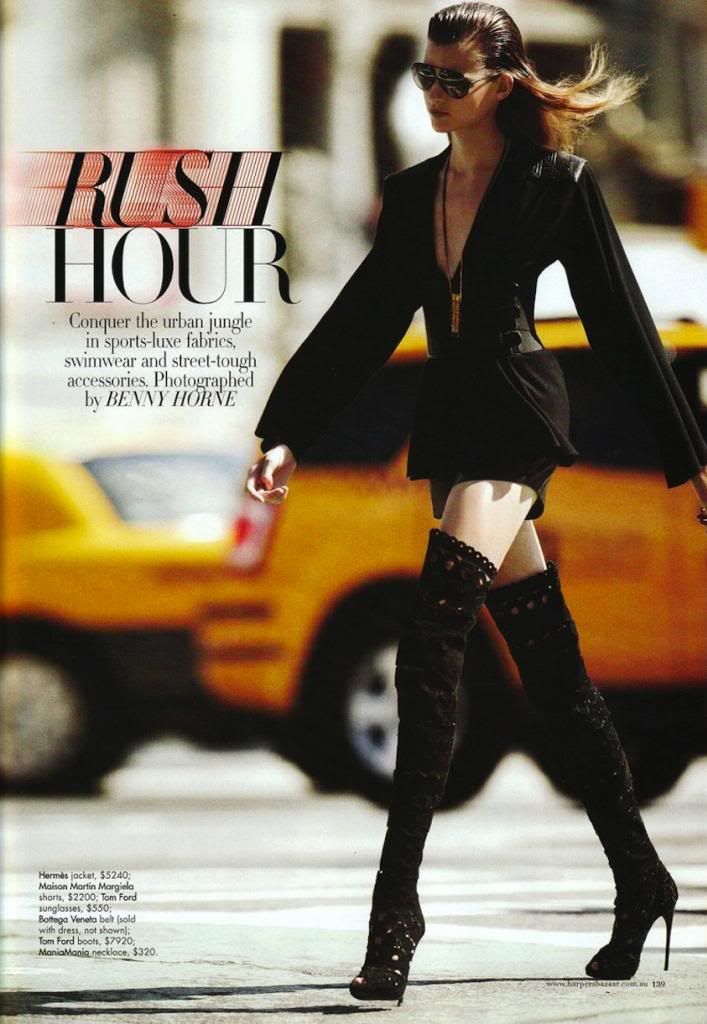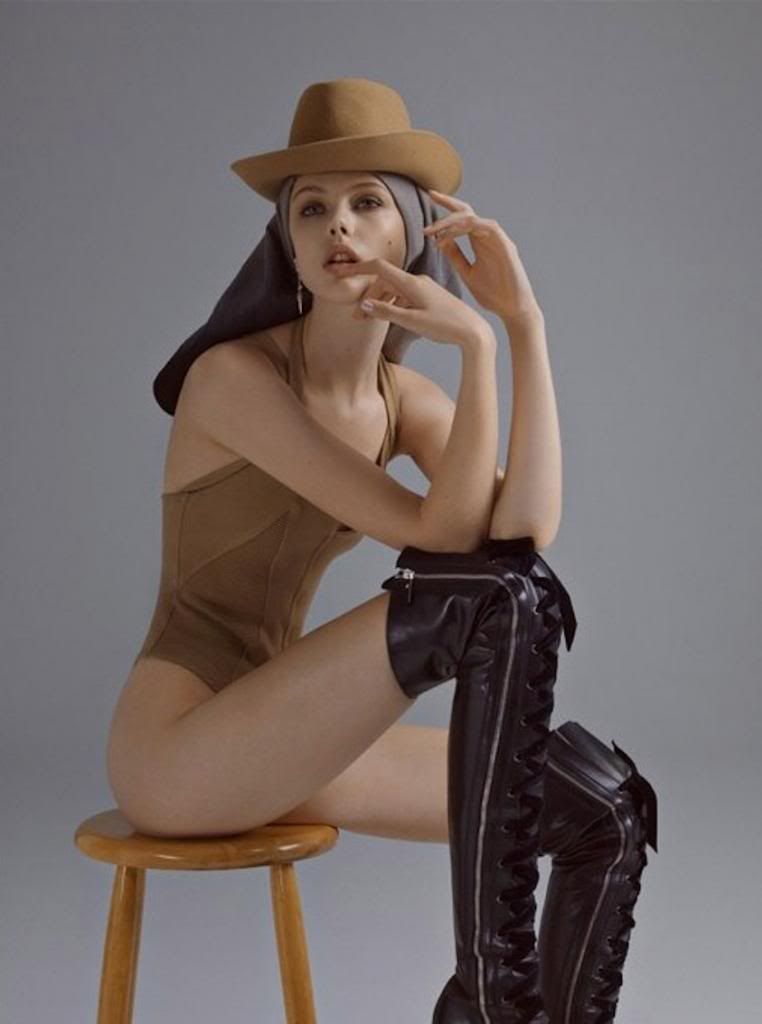 2. Botas leggings. / Thigh High Boots.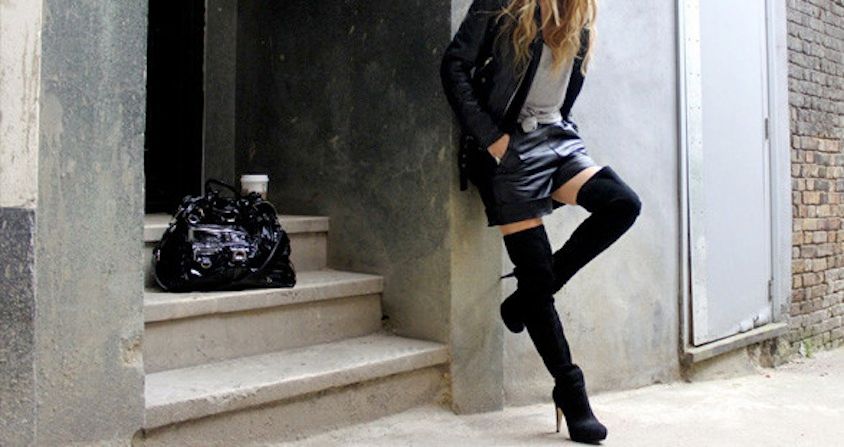 La caña de la bota es muy estrecha y alta, parece un legging. Incluso en ocasiones es tan alta, que no se ve donde termina y te entra la duda, pero si, es una bota mosquetera. /
The leg of the boot is thigh and high, it seems to be a legging. Sometimes is that tall, you don't know where it ends up, you dude buy yes, is a over the knee boot.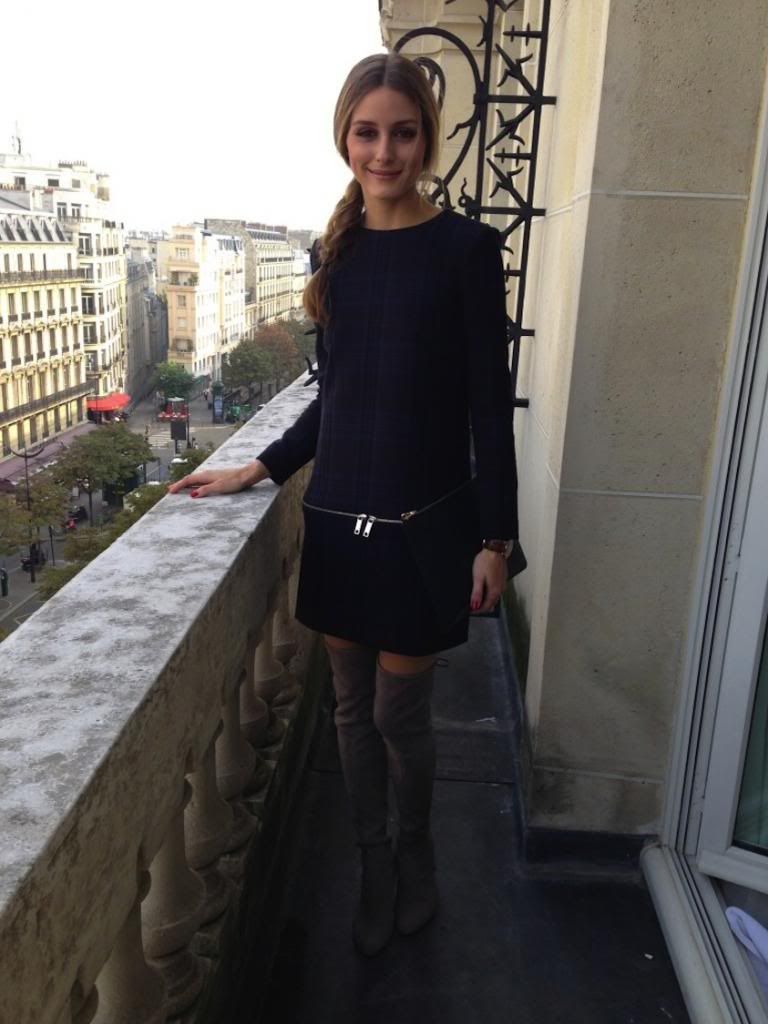 Ellas tambien las llevan. / They also wear them.
Xo xo,
Mia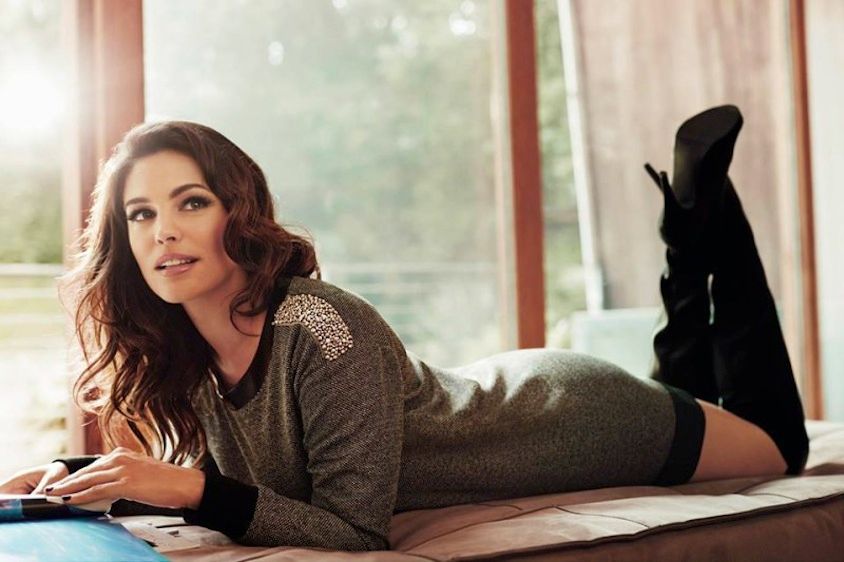 Sources:
Songs of Style
,
Caroline mode,
Tuula Vintage,
Late Afternoon,
Klover mode,
Shoefessional
,
Bootlovers
,
Chictrends
,
Fashiongonerogue
,
5 inch and up
,
Fashionising