No hay frase que deteste mas que: "tengo que darte dos noticias; una buena y otra mala" y encima que tarden mas de un segundo en decírtelo, no te pasa? Bueno pues, así era como debería haber empezado este post, pero no, porque para que? si ya se, llevas leyendo un minuto aproximadamente y no te he contado nada, ni la buena, ni la mala. Pues ahí va, la buena es que uno de nuestros diseñadores españoles,
Josep Font
, se estrena en la pasarela neoyorkina de la mano de
DelPozo
. La mala, es que este año, en Cibeles (seguiré llamándola así, para evitar globalizar) hay unas cuantas bajas; Lemoniez, Kina Fernandez, Carlos Diez, y claro, DelPozo. /
There is no phrase I hate more than: "I have to tell you two news; one good, and other bad", and have to wait more than a second to find out what they are, haven't you got that situation? Well, that was how I should have started this post, but no way, why I should? Yes, I know, you have been reading about a minute, and I haven't tell you anything, neither the good, nor the bad one. Hear it goes, the good one is that one of the Spanish designers,
Josep Font,
debuts on New York Fashion Week, with DelPozo's hand. The bad news, is that this year at Cibeles (MBFW Madrid, but I rather called by the old name) there are few causalities; Lemoniez, Kina Fernandez, Carlos Diez, and of course,
DelPozo
.
Con una alfombra llena de flores, y 36 diseños, Josep Font, Director Creativo de Del Pozo, interrumpe en el escenario internacional de moda. Nada mas, y nada menos, que en Nueva York, escenario de la moda mas contemporánea; MBFW Nueva York es a moda, lo que es el Guggenheim a arte. Con ello, la firma DelPozo, comienza su nueva estrategia; un plan de expansión que da sus primeros pasos en Manhattan. /
With a carpet full of flowers and 36 pieces, Josep Font, DelPozo's Creative Director, interrupted at the international fashion scene. Is New York, the contemporary fashion scene; MBFW New York is to fashion, what the Guggenheim is to art. With this the brand DelPozo, start a new strategy; a expansion plan that takes his first steps in Manhattan.
Josep Font se inspira en las formas femeninas, el romanticismo y la época victoriana. Toda la colección es una búsqueda a la moda artesana, la sensibilidad, casi rozando la Alta Costura y el arte. /
Josep Font gets inspired in the feminine figure, the romanticism and the Victorian era. The entire collection is a search of fashion craft, sensibility, almost close to Haute Couture and art.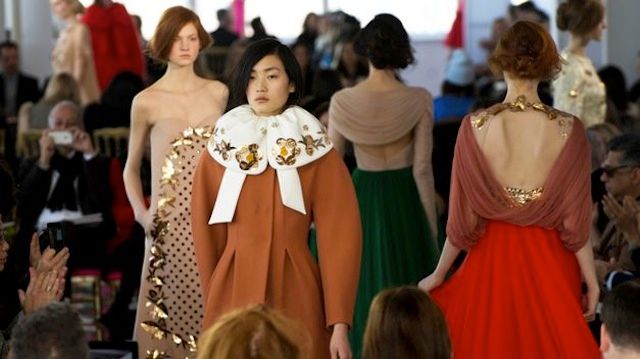 La colección se caracteriza por las formas estructuradas, esculturales y los grandes volúmenes, donde destaca el carácter arquitectónico. A ellas las acompañan vestidos vaporosos y largos en los que el contraste de color es pronunciado. También destacan los estampados florales o detalles florales bordaos en un gran numero de prendas. /
The collection is set by structured forms, sculptural pieces, and large volumens, wich
highlights the
architectural character. Along with them there are long sheer dresses where colour blocking is muted shades. Also the flower prints and flower embroidery details enhance a huge number of garments.
Los tejidos son delicados, ligeros; organza, crepe de seda, bordaos con detalles metalizados. En la confección destacan los plieges, mangas japonesas, cortes al bies, siluetas muy definidas. /

Fabrics are delicate, light; sheer, organza, silk crepe, embroidered with metallic details. In the tailoring folds, cap sleeves, bies cut, sharp silhouettes.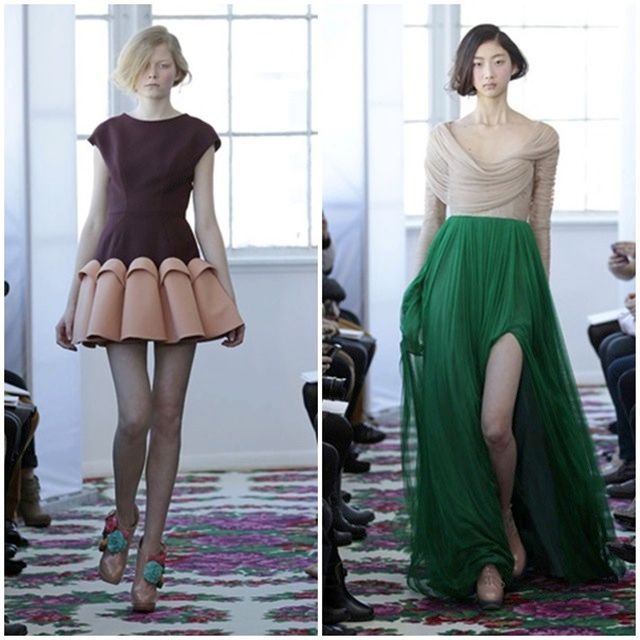 El color esta en juego constantemente; rosas, salmón, pasteles, azules, caramelos, verde, marron chocolate, que resalta con rojos, amarillos, fucsias. Como estampados se vale de los florales y los cuadros. /

Color block is a non stop game; pink, salmon, pastel, blue, caramel, green, chocolate brown, that highlight with red, yellow, fuchsia. As prints Font uses flower prints and plaid.
Los accesorios se centran el zapatos de punta redonda y detalles florales, al igual que los bolsos, donde las flores son el componente que hace que resalten. /

Accessories are mostly round toe shoes with flower details, and so does purses, where flowers are the must have.
En la front-row Oliva Palermo, que ya es fan de la firma española, con gente así, da gusto! /

At the front-row Olivia Palermo, she is already a fan of the firm, with people like that is great!
Feliz Fin de semana!!! / Happy weekend!!!
Mia