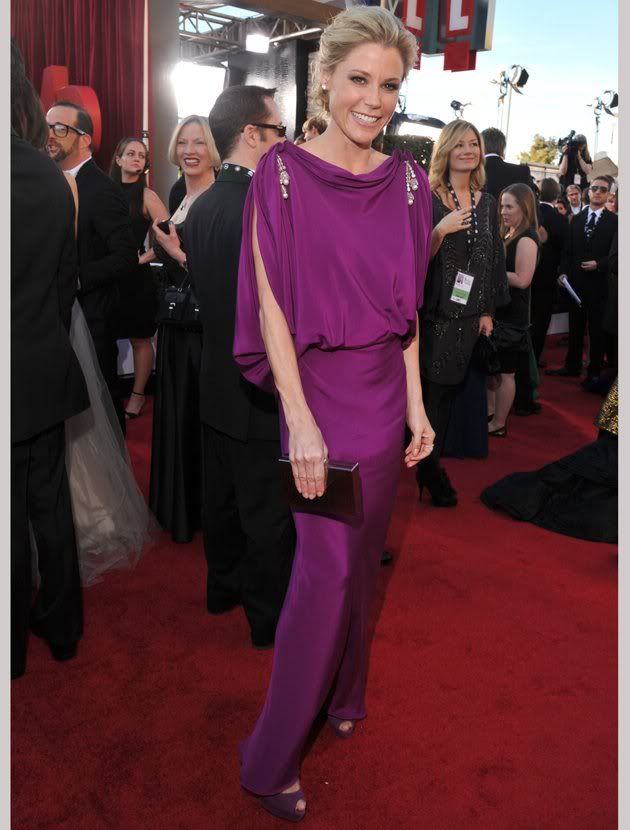 Ahora llega la época de los Premios de Cine y los desfiles. El pasado domingo, 29 de Enero, tuvieron lugar los
SAG AWARDS
, los premios del sindicato de actores. Y aunque un poco justa porque muchos habréis visto los modelos ya en las revistas del corazón que salieron ayer, quería compartir algunos de los estilismos con vosotros pero claro con el lio de semana que llevo en la oficina, antes me ha sido imposible hacerlo y eso que llevo escribiendo este post desde el lunes pasado. Espero que los disfrutéis. /
Now is the season of the Movie's Awards and catwalks. Last Sunday January 29th, it took place the SAG AWARDS, the actors Screen Actors Guild Awards. And even I am a bit late, I am aware of that, because many of you have seen the looks already on the press, I wanted to share them with you a few of the looks, but I am so busy at work right now that I couldn't done it before even I am writing this post since last Monday. I hope you enjoy it.
Muy guapa estaba
Zoe Saldana
, con un vestido precioso blanco de organza de seda decorado con cristales bordados, y pailletes plateados de Givenchy Haute Couture Primavera 2012. El calzado de Giuseppe Zanotti en color beige, que llevaba no combinaban muy bien con su look. Para completar su estilismo escogió clutch de Givenchy, y joyas de Tifanny & CO. /
Beautiful was
Zoe Saldana
, with a gorgeous white silk organza dress, decorated with embroidered crystals and silver pailletes by Givenchy Haute Couture Spring 2012. The beige shoes by Giuseooe Zanotti didn't mix well with the look. To finish, she chose a Givenchy clutch and Tifanny & Co jewells.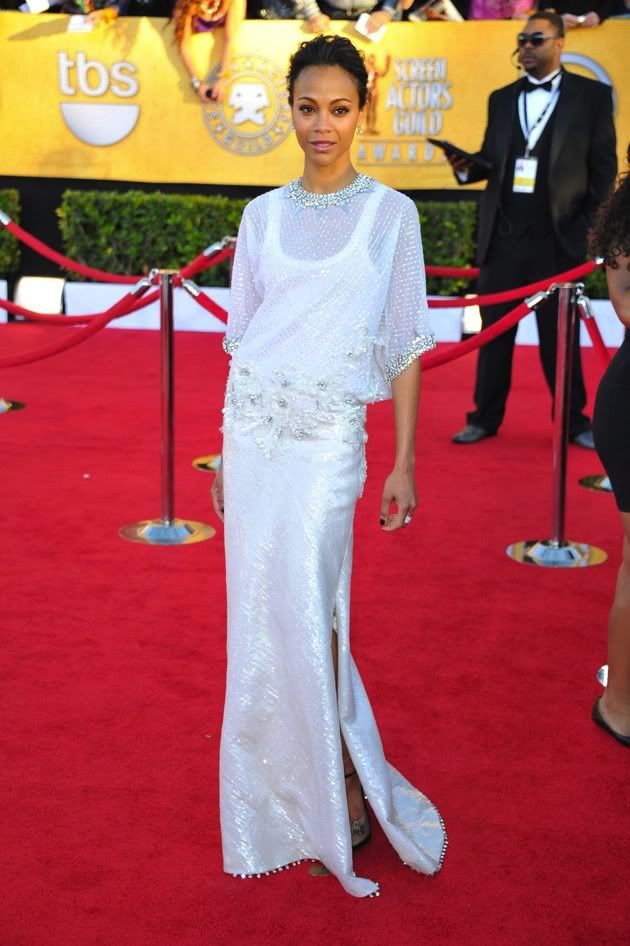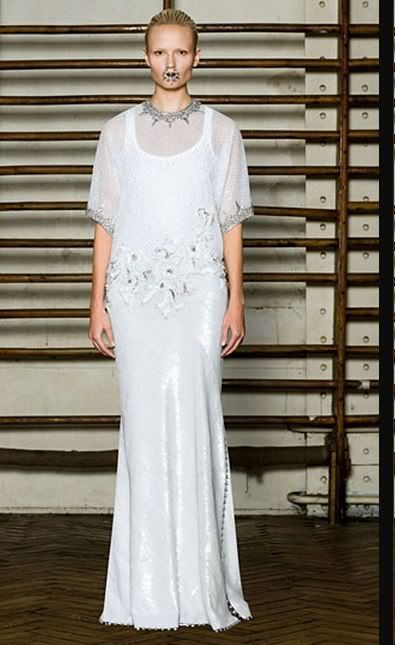 Michelle Williams
, una de las nominadas a Mejor Actriz por su papel como Marilyn Monroe en "My week with Marilyn" llevo un vestido de encaje rojo de Valentino, sandalias del mismo color de Roger Vivier y clutch dorado de Lanvin. /
Michelle Williams
, one of the nominees for oher role as Marilyn Monroe in "My week with Marilyn" wore a red lace dress signed by Valentino, sandals of the same color from Roger Vivie and gold clutch by Lanvin.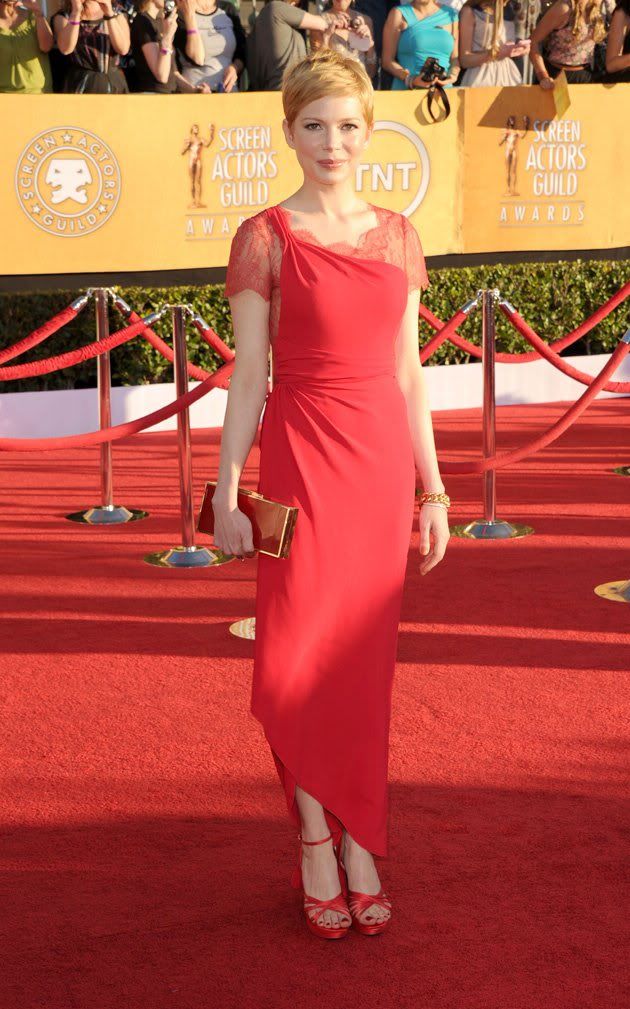 A
George Clooney
le acompaño su novia,
Stacy Kiebler.
Stacy llevo un precioso vestido negro de encaje de Marchesa, para combinarlo elijo un clutch de Judith Leiber, joyas de Jacob & Co y Palladiu, y zapatos de Jimmy Choo. Respeto a George, vestía un traje de Georgio Armani. /
George Clooney went with her girlfriend Stacy Kiebler. Stacy wore a beautiful black lace Marchesa gown, that she matched with a Judith Leiber clutch, jewells by Jacob & Co and Palladiu, and Jimmy Choo pumps.
Con aire completamente setentero piso la alfombra roja
Rose Byrne
. Fue muy atrevida al optar por un mono blanco bordado con escote muy bajo y adornado con una cinta en la cintura firmado por Elie Saab Couture Otoño 2009. Los accesorios eran de Jimmy Choo; clutch negro y dorado, y sandalias modelo Vibe. /
With a 70's look step on the red carpet floor
Rose Byre
. She was very different from the rest of the ladies by choosing a embroidered white jumpsuit with a deep neckline and waistband. The accessories were from Jimmy Choo; black and gold clutch, and Vibe sandals.
Guapa, como siempre, iba
Nathalie Portman
, con un vestido granate de seda y gasa, y escote palabra de honor de Giambattista Valli Couture Primavera 2012. Lo que le da gracia al vestido es el lazo que tiene en uno de los lados del escote. Por el resto, llevaba bolso de Judith Leiber (firma que esta ahora muy de moda en Hollywood por lo que vemos en estos premios), zapatos de Jimmy Choo y pendientes y brazalete de diamantes y platino firmados por Harry Winston. /
Beautiful, as usually, was
Nathalie Portman
, with a silk and chiffon burgundy strapless Giambattista Valli Couture Spring 2012 gown. The elegant and chic look of the dress was given by the bow detail that is on the side of the dress neck. For the rest, she wore Judith Leiber (brand that is cool in Hollywood at the moment, we see that in this award's guest), Jimmy Choo shoes, and earrings and bracelet in diamond and platinum by Harry Winston.
El look de
Angelina Jolie
era un poco soso para una alfombra roja de estas características. La actriz llevaba un vestido largo con espalda descubierta de color petroleo metalizado firmado por Jenny Packham Otoño 2011. Ella iba guapa, por supuesto pero si fuera su estilista la hubiera vestido de otra manera. Lo mejor fueron, sin lugar a duda, los pendientes de aro de oro que llevaba, y el look de su acompañante, Brad Pitt que iba muy elegante con un traje de Balenciaga. /
Angeliana Jolie
look was a bit boring for this kind of events. The actress wore a metal petrol backless gown signed by Jenny Packham Fall 2011. She was beautiful of course but I wouldn't dress her that way. The best were the gold earrings she wore and the look of his man Brad Pitt, who wore a elegant Balenciaga suit.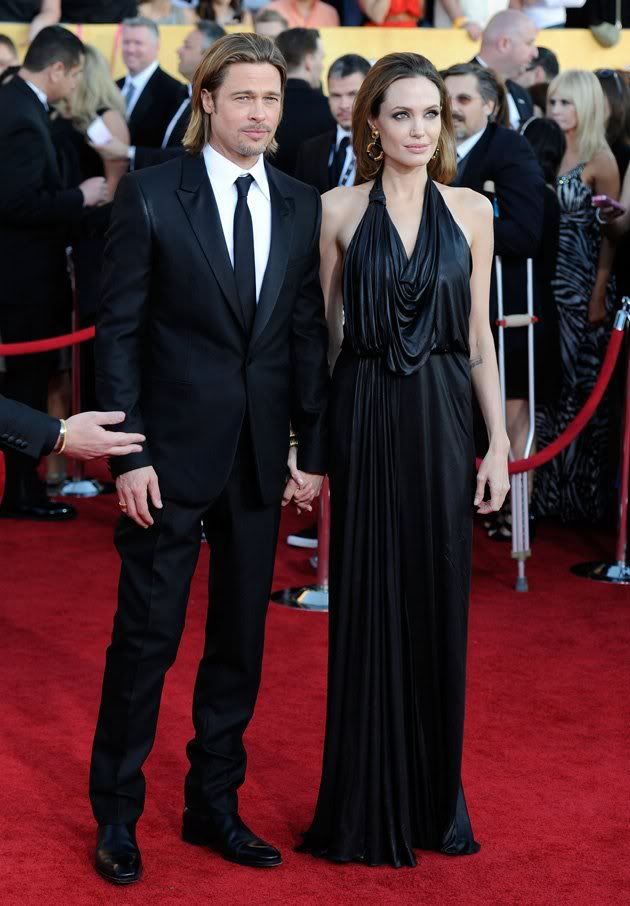 Faltaba ver algún modelo de Chanel, pero fue
Emilia Clarke
quien nos dio esa oportunidad con un vestido bicolor de Chanel Otoño 2011, iba el blanco con un cuerpo minimalista y cuello muy cerrado, en la parte de abajo, vemos el toque chic y ornamental; una falda larga decorada con plumas. Y para dividir ambos, un cinturón. Como el vestido ya es demasiado recargado decidio no llevar ningun otro accesorio, lo que fue una elección de lo mas acertada. /
It remind to be seen a Chanel model, but luckly was
Emilia Clarke
who gave us that oportunity with a bicolor dress by Chanel Fall 2012. On the top white, with a minimal look and close neck, on the bottom, there is a chic and decorative touch: a long skirt decoreted with featheres. And to divide both, a belt. Due to the so decorated dress she had decided not to wear any other accesorie, witch was the greates idea.
Emma Stone
aposto por un look muy vintage. La actriz llevaba un vestido negro (tono que no es muy habitual en la actriz) de escote palabra de honor, corte estilo princesa, y cuerpo de encaje, de Alexander McQueen Pre-Otoño 2012. Los accesorios, también de McQueen constaban de un clutch negro, blanco y de encaje, cuya apertura tiene un caballo y una calavera, y unos peep toe en raso nagro que estropeaban un poco su look. /
Emma Stone
bet for a very vintage look. The actress wore a black (she usually doesn't wear this color) strapless princess dress, with lace bustier signed by Alexander McQueen Pre-Fall 2012. The accesories, also by McQueen, were a black, with and lace clutch decoreted with a horse and a skull in the opening part, and a peeptoe that broke a little her cute look.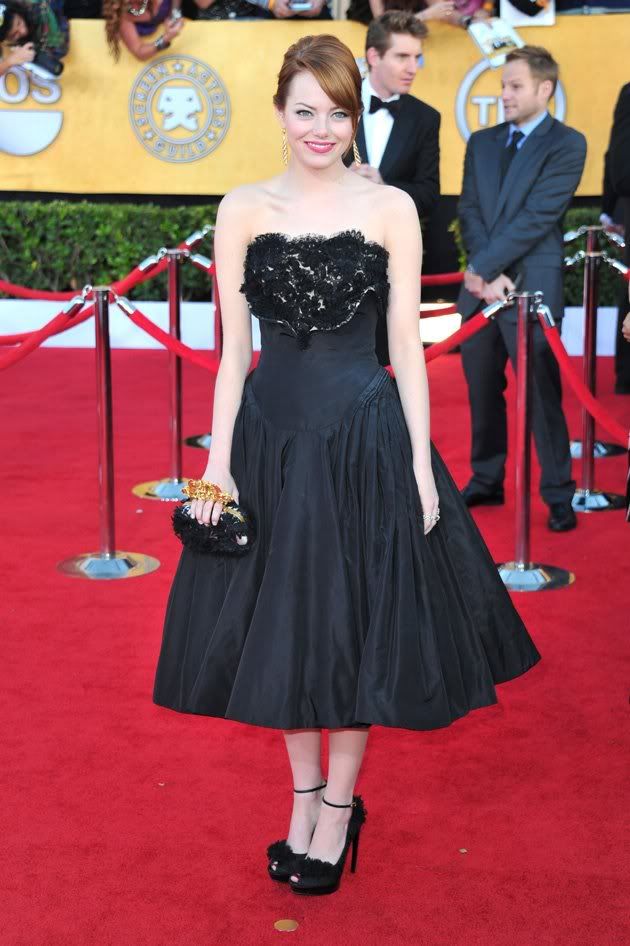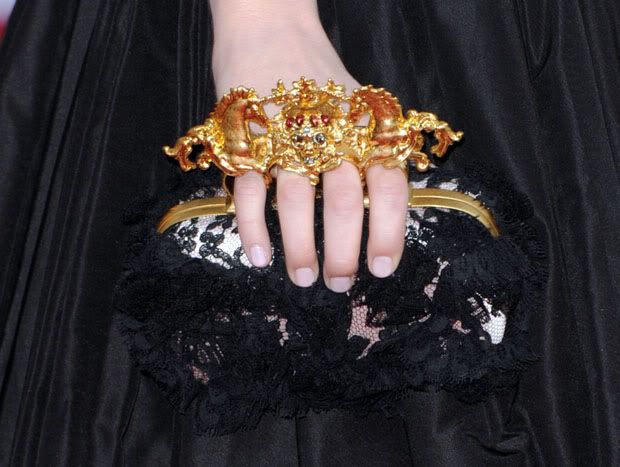 La mujer del actor Armie Hammer,
Elisabeth Chambers
, iba muy guapa y chic con un vestido blanco de corte minimalista y escote palabra de honor de Gucci. A juego su marido,
Armie Hammer
, que tambien vestia de Gucci y con smokin. Este es un claro ejemplo de que muchas veces la elegancia esta en lo mas sencillo. /
The wife of the actor Armie Hammer, Elisabeth Chambers, was so pretty and chic with a strapless minimalist white Gucci dress. Matching her husband, Armie Hammer, also wore Gucci in a smokin. This is an example that in elegance usually less is more.
De verde jade iba
Emily Blunt
con un vestido de un solo hombro, y abertura en la falda firmado por Oscar de la Resort 2012. En la mano un clutch de Swarovski, y en los pies sandalias de Jimmy Choo modelo Linda. /
In jade green was dress
Emily Blunt
with a one shoulder and a high split Oscar de la Renta Resort 2012 dress. On her hand a Swarovski clutch and on her foots a Jimmy Choo sandals, model Linda.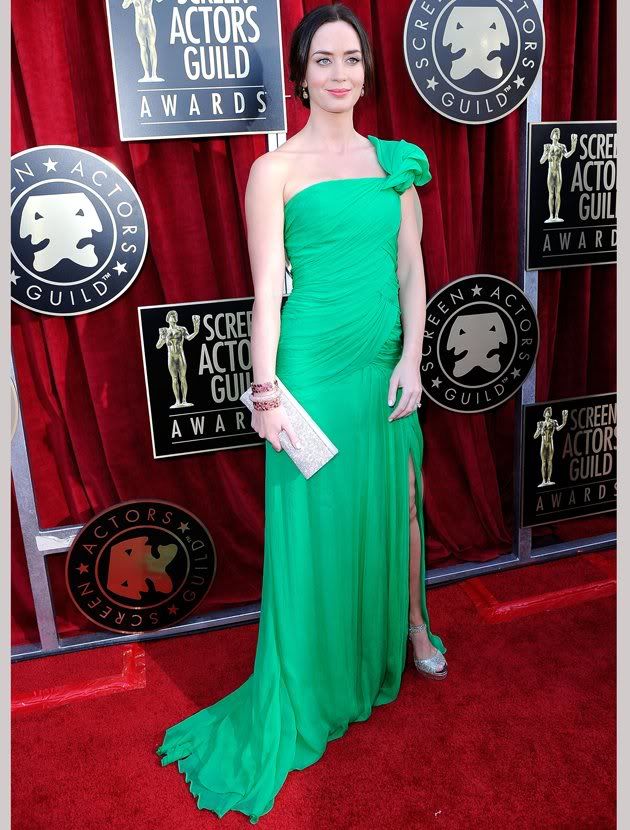 Dianna Agron
opto por un vestido fuscia de Carolina Herrera. En la parte frontal, como detalle el vestido lleva un volante que cae desde el pecho hasta el final de la falda. No es una mala eleccion pero desde luego en los Globos de Oro iba mil veces mejor, en esta ocasion va bien pero nadie la recoradra por este vestido. A juego llevaba sandalias de Jimmy Choo y joyas de Fred Leighton. /
Dianna Agron
chose a fuchsia Carolina Herrera dress. On the front, as detail the dress has a big ruffle that goes from the dress neck to the end of the gown. It was not a bad option although it was a thousand better the gown she wore at the Golden Globes, this time anyone will remember her dress. To mix it she chose Jimmy Choo sandals and Fred Leighton jewelry.
Otra de las actrices de Glee,
Jayma Mays
, llevo un vestido metalizado entallado a la figura y muy sexy con espalda simi-descubierta, ya que esta estaba protegida por una tela transparente de encaje, y cola. El modelo es de Reem Acra Otoño 2011. /
Another Glee actress,
Jayma Mays
, wore a metal tight sexy dress with a open back with a lace fabric that give a really sexy look. The model was from Reem Acra Fall 2011.
Y ahora quedan los Oscars, la gran duda: los modelos que vermos en la Alfombra Roja ¿seran mejores?, ¿habra sorpresas?... ups que nervios, pero tranquilos que todavia queda. Primero pasarelas, y luego Oscars, pero entre medias, tengo mucho que contaros y compartir con vosotros. Por ahora a descansar y manana, por fin Viernes! /
And now the Oscars are left, the question is:the models we will see on the Red Carpet will be better?, there will be surprises? but just relax we still got time. First catwalks, and then the Oscars, but in the mind time, I have so much to tell you and share with you. For now its time to rest and tomorrow finally we are on Friday!
Que tengais buena noche y un Viernes fantastico. /
Have a nice night and a great Friday.
Xoxo,
Mia
Sources:
Style.com
,
Just Jered
,
Vogue.com
,
Red Carpet Fashion Awards
,
Pop Sugar
,
Zimbio
.