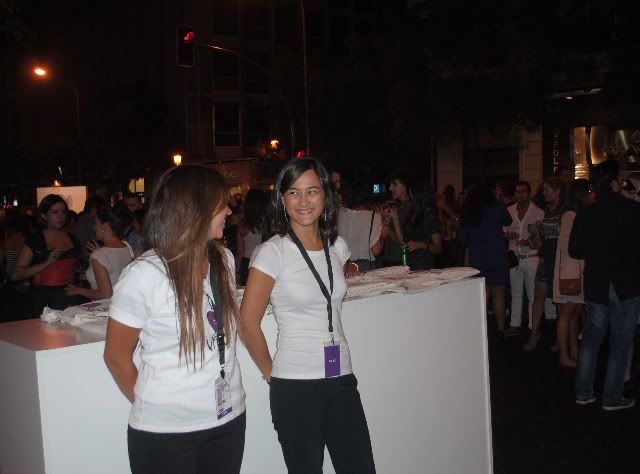 Este es el primer look que saque de la noche: look veraniego donde los haya con camisa y shorts de seda, y sandalias planas doradas. Todo en tonalidades que van a estar de moda este próximo otoño-invierno. /
This is the first look I took that evening: a summer look with shirt and silk shorts, and gold flat sandals. All in colors that are going to be in next fall-winter.
Bajo estas lineas, un look ideal y muy chic: vestido de encaje gris con manga larga, cartera negra, anillos oversize y peep toes negros. /
Above a ver great and chic look: grey long sleeve lace dress, black clutch, oversize rings and black peep toes.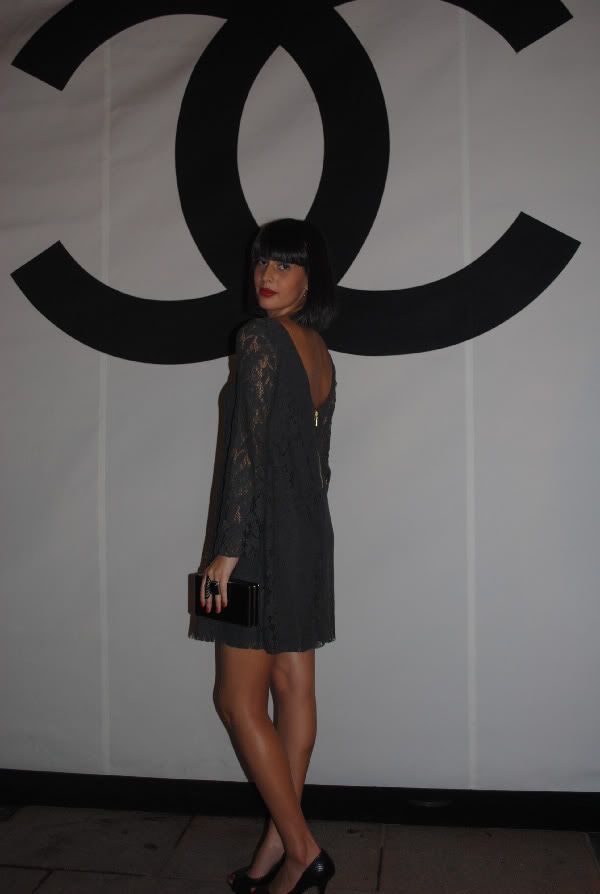 Seguí fotografiando looks, si. Este me llamo la atención porque el plata es un tono tendencia esta nueva temporada y aunque es un look muy normalito, es muy apropiado para salir por la noche este otoño. Como os comento siempre: "en la sencillez esta el buen gusto". /
I keep on photographing looks, yes. This called my attention because silver is a trend color this fall and even thought is a normal look its perfect to go out at night this new season. As I always said: "in the simple is where we find taste".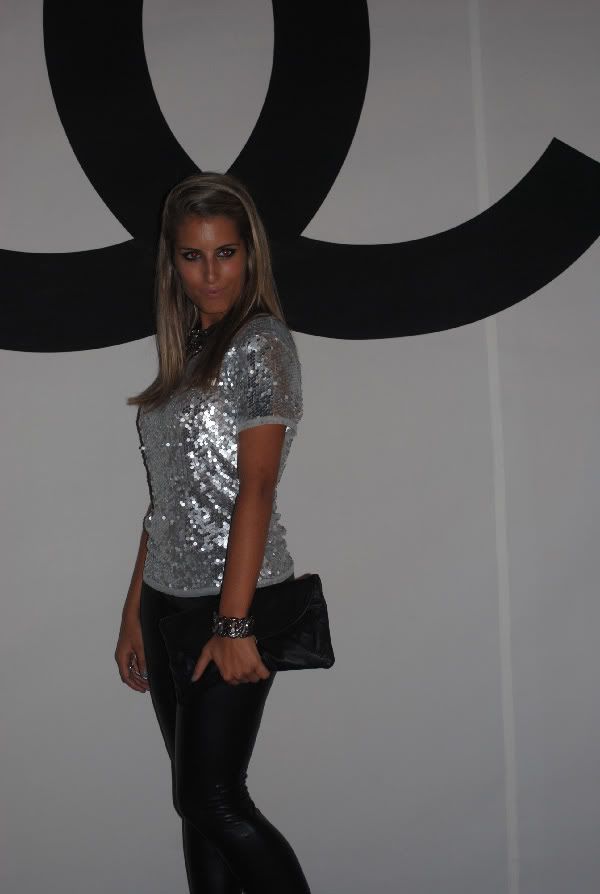 Dos tonos ideales y looks con aire desenfadado. /

Two great colors in a free-and-easy looks.
3 amigas, 3 estilos: fashion, trendy y clásico. /
3 friends, 3 styles: fashion, trendy and classic.
Me fije en el look de Carmen por su toque punk (adoro el punk). Carmen lleva top de Zadig et Voltaire y pantalones de Custo Barcelona, y botines de piel hechos en España. Como recogido una trenza que tambien son tendencia. /
I notice Carmen's look for the punk touch ( I love punk). She wears top from Zadig et Voltaire. pants by Custo Barcelona, and leather booties made in Spain. On her hair a braid that are also in.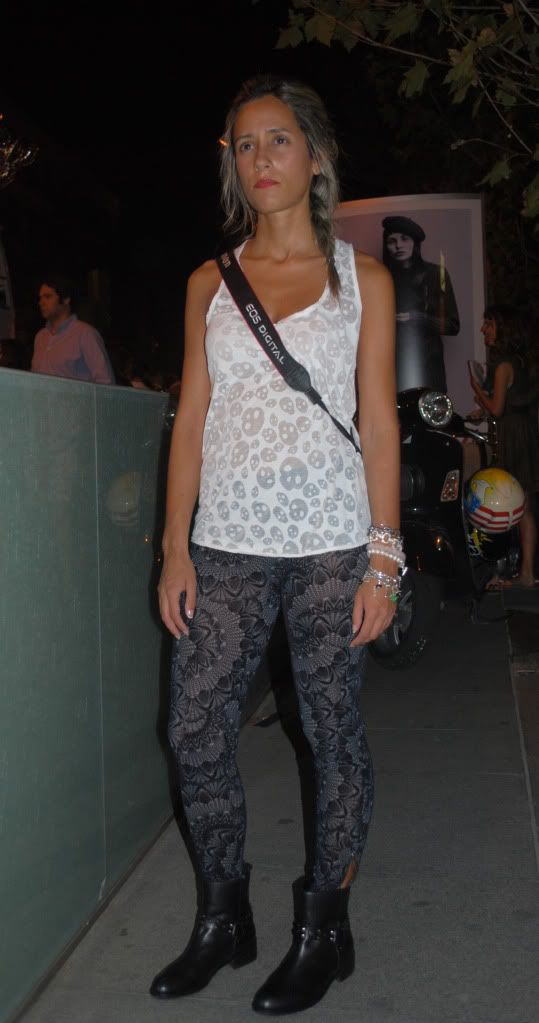 La modelo
Clara Alonso
iba de negro con un diseño de Azzedine Alaia, fajin de piel negro, cartera de Chanel y peep toes de Miu Miu. /
The model Clara Alonso wore a black Azzaedine Alais dress, black leather belt, Canel clutch and Miu Miu peep toes.
La actriz
Vanessa Romero
opto por un modelo de Stella McCartney en blanco y azul, que combino con un clutch blanco y zapatos azules con detalles de dorado. /
The actresses Vanessa Romero chose for a white and blue Stella McCartney dress, that she matched with a white clutch and blue pumps with details in gold.
Paula Echevarria
, eligio uno de los tonos mas populares del proximo invierno, el plata, con un vestido de manga larga de Balmain y sandalias negras de Pura Lopez. /
Paula Echevarria, chose fall tones, a silver long sleeve Balmain dress and Pura Lopez sandals.
Muy trendy vimos a Leticia Dolera con un traje masculino de Burberry, que combino con un top en gris de Sita Murt, y cartera de Louis Vuitton. Tomar nota porque los trajes masculinos van a ser tendencia el proximo invierno. /
Leticia Dolera was so trendy with a txedo male dress signed by Burberry, that she mixed with a grey Sita Murt top and Louis Vuitton clutch. Be aware because male dresses are going to be in next fall-winter.
All street looks images are taking by me for Mia's Fashion Scrapbbok, and celebrities' are from Vogue.