Michael Kors es uno de mis diseñadores norte americanos favoritos. El desfile que tuvo lugar el otro día en la Semana de la Moda de Nueva York me encanto. La colección me apasiona por ese toque étnico y tribal que le ha otorgado el diseñador, que mezcla con un look aventurero, safari y desenfadado. /
Michael Kors is one of y favorites north american designers, and I love all the what I saw at his catwalk that took place the other day al Mercedes Benz Fashion Week. I love the collection for its ethnic and tribal touch that the designer has give it, that mix with an adventure, safari and freehand-easy look.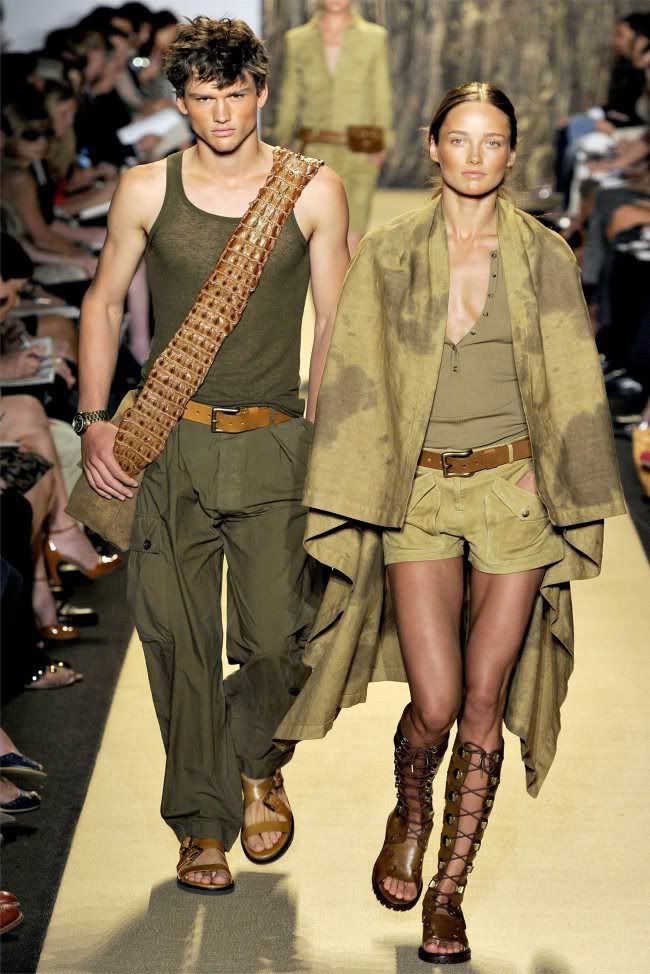 Como materiales utiliza: piel pitón, tejidos ligeros entre los que destaca la seda, lino, plumas y el uso del cuero. /
As fabrics he uses: snake skin, light fabrics where silk highlight, linen, feathers and the use of leather.
Los tonos: los colores tierra priman; naranja, marrones, verde caqui, verde oliva, crema, blancos... /
The colors: earth colors; orange, sienna, kaki, olive, cream, whites...
Mi prenda favorita es un vestido poncho blanco con flecos, un vestido en tonos verdes echo de plumas, y un vestido de manga larga y estampado de cebra que resalta la figura femenina. /
My favorite piece is a white line wine-dress coat, a green feather dress, and a long sleeve, cebra print dress that draws the female figure.
Como accesorios: bandoleras, y bolsos oversize de tejido natural. En el cuello collares étnicos. Y en los pies, sandalias planas todo terreno de estilo gladiador. /
As accessories: messenger and oversize bags of natural fabrics. On the necks, ethnic necklaces. And on the models foot, flat gladiator sandals .
La colección es apta para una mujer clásica, segura de si misma, que le guste la moda. La celebrity que mas se identifica con esta colección es Zoe Saldana. /
The collection is made for a classic, confident women who loves fashion. The celebrity that goes with this collection is Zoe Saldana.
Sources: Zimbio, Fashion Gone Rouge.