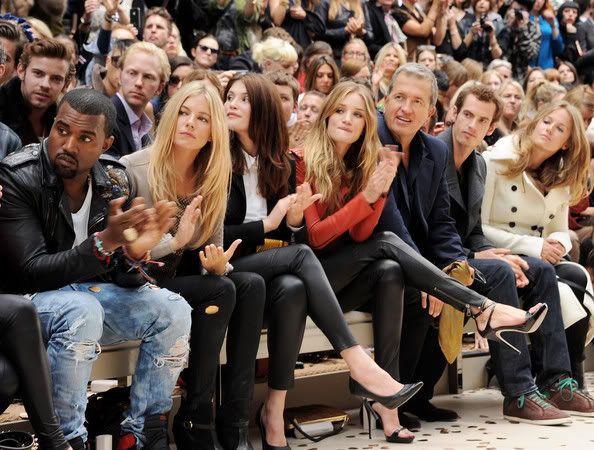 Aunque otras semanas de la moda de grandes ciudades están ahora en lo mas cool, sigo con Londres, porque es la primera vez que les hago caso en el blog, y me parece justo, la moda inglesa también tiene su aquel. Y ya les tocaba.... /
Even thought other fashion weeks of another big cities are on the coolest moments, I stick to London because is the first time I pay attention to them in the blog and it was about to do it....
Empezamos con el desfile... modelos sobre la pasarela londinense con diseñados de la mano de Christopher Bailey. Destacando los ya populares trench de Burberry que son sin duda, el sello de la firma. Y hablando de los trench... nos encontramos con dos modelos distintos: unos con formas globo o con vuelo en la falda, y otros ajustados. Para definir la figura femenina, todos los modelos van acompañados de un cinturón ancho que sirve como cierre de la gabardina. /
Let's start with the catwalk... models on the London runway with designes by Cristopher Bailey. On the scene, highlight Burberry's trench that are the sign of the house. Talking of trench we find two different models: one with globe or wide on the skirt, and others too tight. To define the female figure he uses wide belts that close the trench.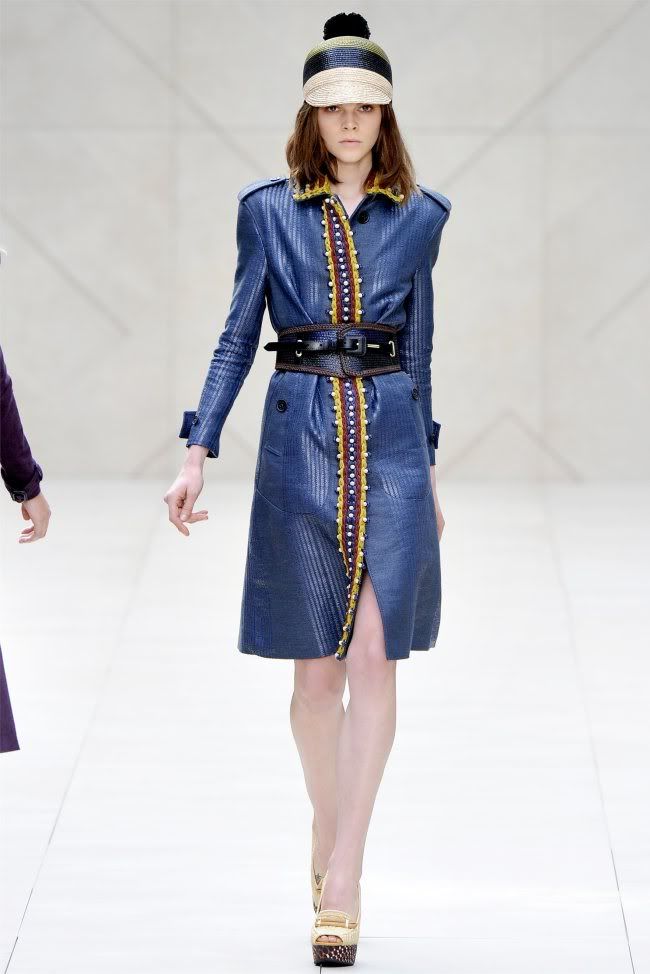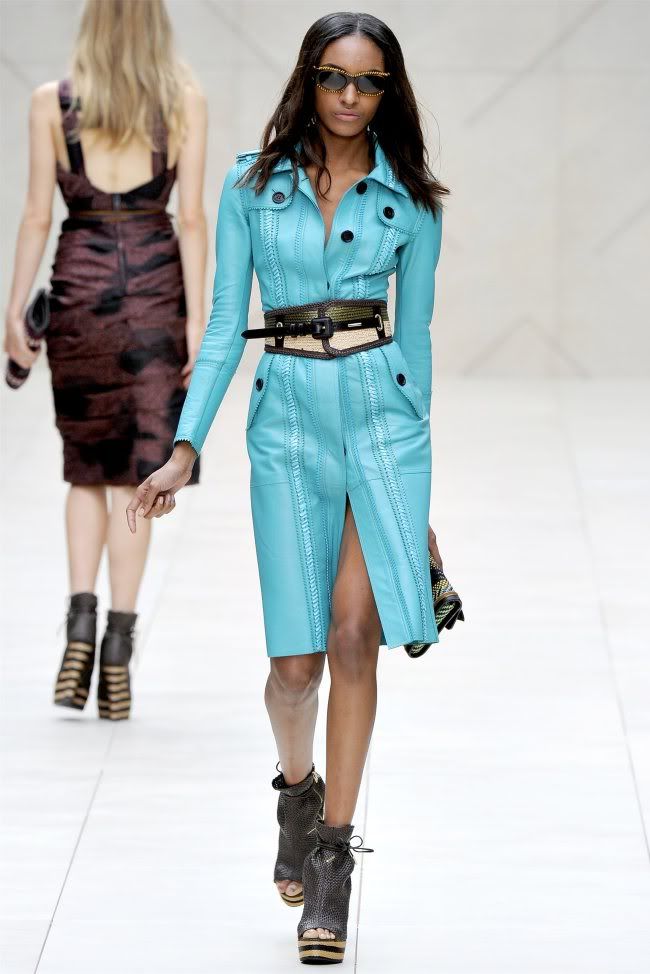 Los tonos que Bailey emplea en su colección son muy variados: azules, verdes, granates, marrones, bronce, amarillos, y estampados. /
The colors he uses are a few: blues, greens, maroon, browns, bronze, yellow and prints.
Respecto a las prenda, hay muchas faldas. Faldas tubo con cinturilla alta y terminación por debajo de la rodilla, faldas anchas, y otras de corte asimétrico. Que combina con tops de mil formas. Todo perfecto para darnos ideas de como ir vestidas a la oficina o para salir por la noche a cenar. /
About garments, are many skirts. High waisted tube skirts that ends under the knee, wide skirts and assymetric skirts. They match them with different types of tops. All great to give us ideas on how to dress to go to the office, or to go out for dinner.
Otras prendas ideales son los vestidos. Entre los que predominan los estampados y los frunces. Algunos de ellos los combina con chaquetas XXL, jugando así un poco con la moda, y haciendo un guiño a esta. /
Another amazing garments are his dresses. Among them highlight prints and the gathers. He mix some of them with oversize jackets, playing with fashion and winking it.
Mis prendas favoritas son 2 vestidos y un trench. Perfectos para cualquier chica con clase, estilo y buen gusto. /
My favorite garments are two dresses and a trench. Perfect for any lady with class, style and gorgeous taste.
En esta coleccion los accesorios son esenciales, por ello hay una gran variedad de ellos. Gorras, cinturones, bolsos y sandalias. Los bolsos los vemos de diversos tipos: extra grandes, de hombro y clutch. El otro accesorio estrella es el calzado: sandalias con mucha cuna y plataforma, y unos botines peep toe ideales tambien con plataforma. /
In
this
collection
accessories
are
essential, on the catwalk they were a variety of them. Hats, belts, bags and sandals. Purses are from different sizes: oversize, arm onces an clutch. The other main accessory are shoes: wedges with platform, and peep toe platform booties.
Y en el backstage... / And at the backstage...
Sources
:
Vogue.com, Zimbio, Style.com.