Como os prometí aquí tenéis la segunda parte de mi fin de semana en las Jornadas de Blogs de Moda. Ya sabéis que adoro los street style, y que uno de mis blogs imprescindibles es Stockholm Street Style. Así que, a parte de mostraros algunas imágenes más de las jornadas, este post es básicamente streetstyle. /
As I promised hear is the second part of my weekend at the Fashion Blog Conferences. You already know I love street style, and that one of my must reads blogs is Stockholm Street Style. So, besides showing more images of the Conferences, this post is basically street style.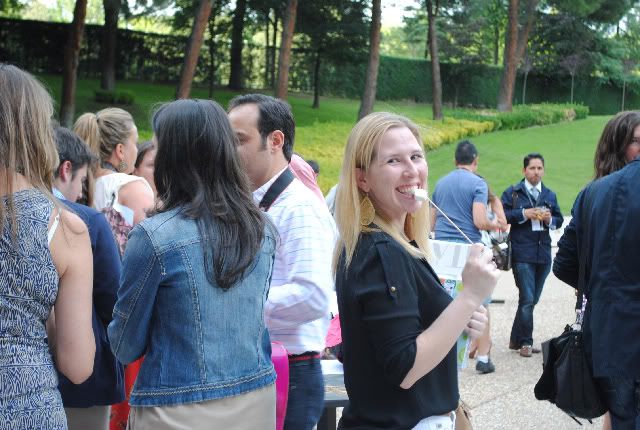 ¡Me encantó el look de Marian, de
Go Fashion Go
, en cuanto lo vi! Pero lo mejor de estas fotos es que debido a ellas, ahora tengo una nueva amiga, una chica estupenda, simpática,... vamos de esas personas que conoces desde hace poco pero que parecen que son tus amigas desde hace años. Además su blog es una pasada, lo digo en serio, no lo conocía pero... me chifla, así que no dejéis de visitarlo,
aquí
. Y pasando ya a su look, Marian lleva camisa y falda de Zara (P/V 2011), zapatos Cesare Pochiotti, y collar y anillo Bimba & Lola. /
I loved Marian's look as I saw it! Marian is the blogger of
Go Fashion Go
. But the best part of those pictures are that because of them I have a new friend, a great girl, super nice... one of those person you know recently but seems to be your friend for years. Plus her blog is gorgeous, I mean it, I didn't knew it but... is superb so don't forget to stop by,
hear.
And going to her looks, Marian wears shirt and skirt from Zara (SS 2011), Cesare Pochiotti pumps, and necklace and ring by Bimba & Lola.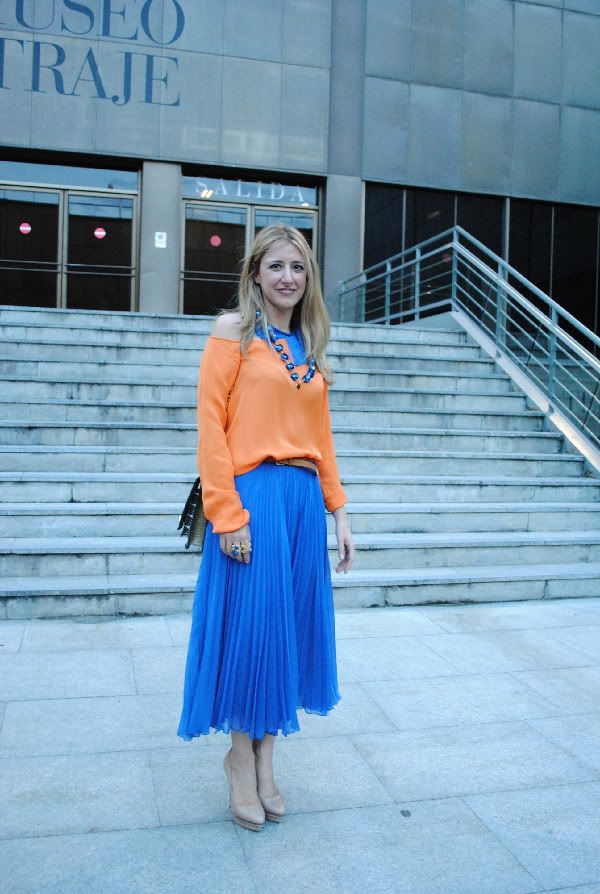 ¿Os acordáis de Mapi de
Miss Personal Shopper?
Si, os sonará del pasado mes de febrero, porque la conocí en la Pasarela Cibeles, y fotografié su look para el blog. Mapi es tan estilosa, que le pedí que posara de nuevo para Mia's Fashion Scrapbook, y aquí tenéis el resultado. /
Do you remember Mapi from
Miss Personal Shopper
? Yes, she might sound you from last Febrary, I met her at Cibeles Madrid Fashion Week, and I took a pic of her look for the blog. Mapi is os stylish, I asked her to pose again for Mia's Fashion Scrapbook, and hear is the result.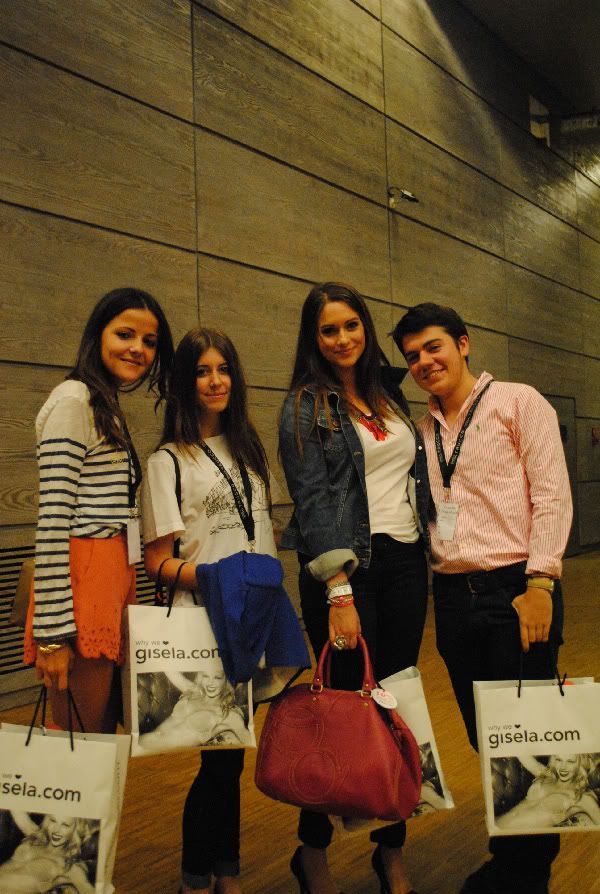 En la imagen Mapi de nuevo, Sandra de
Sneak Peak
, Nelly de Just in my handbag y Jorge de
Sneak Peak
.
Abajo, Almudena de
Moda es todo lo que pasa de moda
, con un look casual compuesto de camisa azul, pantalón pesquero blanco, bolso de Carolina Herrera y sandalias bicolor de Zara (P/V 2011). A Almudena también la conocí gracias a esta foto, y es encantadora y una fotógrafa muy buena. /
Below, Almudena from
Moda es todo lo que pasa de moda
,
with a casual look made by blue shirt, capri white pants, Carolina Herrera bag and Zara wedges (P/V 2011) I also met Almudena thanks to the picture and she is so nice and a great photographer.
Nelly de
Just in my handbag
, ya es una habitual de Mia's Fashion Scrapbook, así que no hace falta ni que os la presente ¿no? Aquí lleva un precioso vestido rojo de Sfera (P/V 2011) que me parece ideal para ir a la oficina, y bolso blanco de Purificación García. /
Nelly from Just in my handbag, is already a regular in Mia's Fashion Scrapbook, so there is no necessary to introduce her, right? Hear she wears a pretty red dress by Sfera (SS 2011) the outfit is perfect to go to the office, and white bag from Purificación García.
La mayoría conoceréis a Rebeca de
A Trendy Life
, porque es una de los top bloggers de España, y es que claro, con ese pelo, y ese estilazo no es para menos. Aquí lleva falda azul de Zara (P/V 2011) y bolso Speedy de Louis Vuitton. ¡Me encanta el look con el cinturón dorado! que por cierto, no me dio tiempo a preguntarle de donde era. /
Most of you might know Rebeca from
A Trendy Life
, because she is one of the top bloggers in Spain, and is crystal, with that hair, and style is not for less. Hear she wears blue Zara skirt (SS 2011) and Luis Vuitton Speedy bag. I love the look with the gold belt! by the way I didn't got time to ask her where it was from.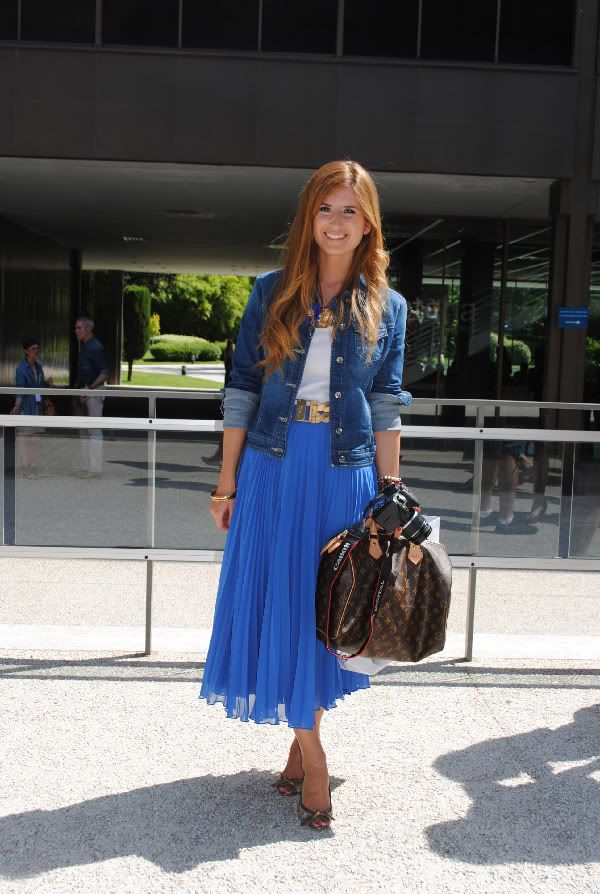 Bárbara Crespo lleva top morado de Zara (P/V 2011), y shorts plateados de Jocavi. /
Bárbara Crespo wears purple top by Zara (SS 2011) and silver Jocavi shorts.
En la hora de la comida. Adriana de
Ready to Go Ready to Wear
( ya ha salido en alguna ocasión en el blog) lleva un atuendo totalmente vintage; vestido aquamarina de cuando su madre era joven. ¡Esta chica siempre nos sorprende! Esperar y viréis. /
At lunch time. Adriana from
Ready to Go Ready to Wear
(she has already appeared in the blog a couple times) wears a totally vintage look; aquamarine dress from when her mother was young. This girl always surprises us! Wait and see.
Carolina de
Just Relux
lleva un look muy casual que completa con un precioso cardigan de H&M (otra temporada). Carolina es encantadora, la conocí gracias a Marian y Almudena, es lo que tiene, no sabes nunca cuando vas a conocer a alguien que merezca la pena, y tuve la suerte de conocer a cuatro chicas estupendas el fin de semana pasado. Lo malo, es que tres de ellas no viven en Madrid; ¡no puede ser todo perfecto! /
Carolina from Just Relux wears a casual look that ends up with a gorgeous cardigan from H&M (old). Carolina is lovely, I met her thanks to Marian and Almudena, is how it works, you never know when you will meet someone worthwhile, and I was lucky to met four amazing girls last weekend. The down side is that three of them doesn't live in Madrid; all can't be perfect!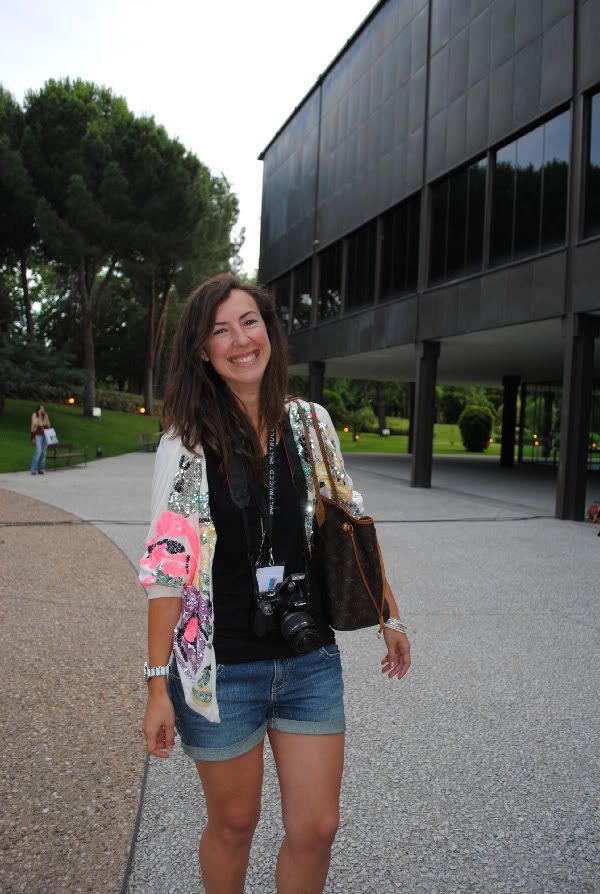 Marian de
Go Fashion Go
y Almudena de
Moda es todo lo que pasa de Moda
, el segundo día de las Jornadas. Almudena lleva shorts de H&M (P/V 2011), top Zara (old), chaqueta negra de El Corte Inglés y bolso de H&M. /
Marian from
Go Fashion Go
and Almudena from Moda es todo lo que pasa de Moda, on the second day of the Conferences. Almudena wears H&M shorts (SS 2011), top Zara (old), black jacket El Corte Inglés and H&M bag.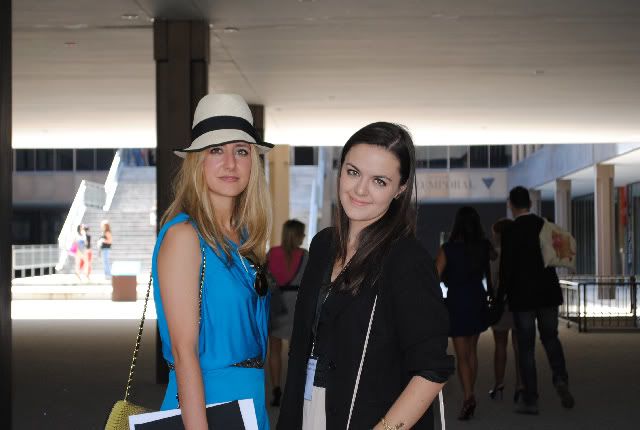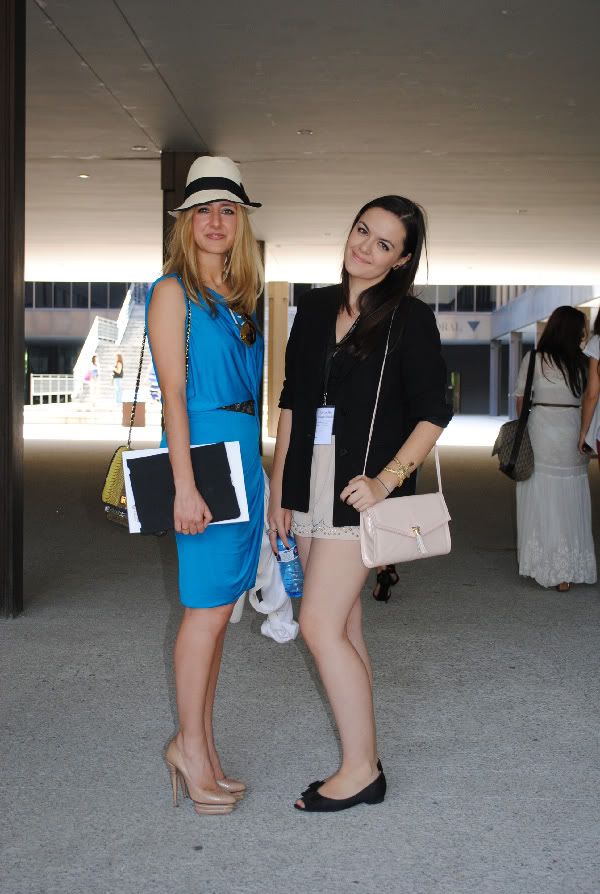 Marian lleva, vestido azul de Yigal Azröuel, blazer blanco de Zara, sombrero de Uterqüe, gafas de sol de Mykita & Bernhard (las mismas que usa Carrie en Sexo and Nueva York 2), zapatos de Cesare Pachiotti y bolso de Angela Jackson. /
Marian wears blue dress by Yigal Azröuel, Zara white blazer, Uterqüe hat, Mykita & Bernhard sunglasses (the same model Carrie wears in Sex and The City 2), Cesare Pachiotti pumps and Angela Jackson bag.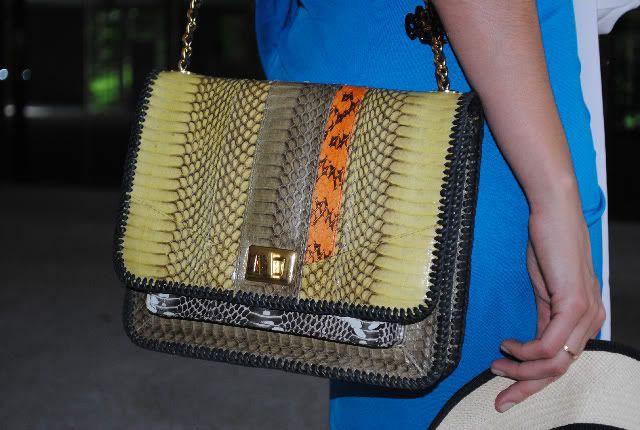 Aquí me tenéis con Marian. Si saco looks de los demás, ¿porqué no alguno mio de vez en cuando? Estas fotos, son gracias a Marian y a Almudena, la primera por enseñarme a estar tranquila para sacarme fotos, y la segunda porque, como os he dicho ya, es una fotógrafa excelente, en todas las fotos que me ha hecho salgo bien, y ¡mira que es complicado! ¡Gracias chicas! /
Hear I am with Marian. If I post looks from others, why not one of mine from time to time? Those pictures are made thanks to Marian and Almudena, the first one for teaching me to be relax when I got a picture taken, and the second one because, as I said, is an excellent photographer, in all the pictures she took of me I look good and that's complicated! Thanks ladies!
Mi look. / My outfit
Top y falda: Zara (P/V 2011) / Top and skirt: Zara (SS 2011)
Sandalias: Cuple (P/V 2011) / Sandals: Cuple (SS 2011)
Pendientes: Agatha (old) / Earrings: Agatha (old).
Brazalete: H&M (P/V 2011) / Bracelet: H&M (SS 2011)
Bueno y con esto pongo punto y final al post. Espero que os haya gustado, y que disfrutéis de las imágenes, porque las he sacado con mucha ilusión. /
And with this I put a end to the post. Hope you like it, and enjoy the image because I had taken them with illusion.
All image are taken for Mia's Fashion Scrapbook.