Este fin de semana pasado ha sido de locura, el viernes salí de casa a las 8. Estuve toda la mañana en la oficina con mil historias y a las 15,00 en punto salí corriendo para no perderme ni un segundo de Cibeles, y es aquí donde realmente empieza este post. /
Last weekend has been crazy, on Friday I get out home at 8 p.m. I was the whole morning at the office with tongs of work, and at 3 p.m. I get out running to don't miss a second of Cibeles Madrid Fashion Week, and there is when this post starts.
Al llegar me dí una vuelta por el Espacio Cibeles para ver como estaba planteado este año. Lo cierto es que de una edición a otra no cambia mucho, de hecho los stands de cada revista estaban en el mismo sitio que en Septiembre, y luego encontramos los de los patrocinadores. /

When I arrived I took a tour at the Cibeles Space to see how it was set this year. The truth is that from one edition to another it doesn't change much, in fact the magazine stands were place on the same spot they were in September and we also find the sponsors stands.
This was Telva stand, was always full of people.
En el espacio, estaba María León, Directora de Comunicación de Pedro del Hierro y Asesora de Las Rozas Village, haciendo un pequeño show para sacar en el blog que tiene en Hola.com. Por cierto, la chaqueta de pailletes que lleva María es de Pedro del Hierro Sport. / On the Cibeles space was María León, Comunication Director of Pedro del Hierro and Las Rozas Village image advisor, doing a show to post on her Hola.com blog. By the way, the pailettes jacket she wears is from Pedro del Hierro Sport.
Y corriendo al desfile de Angel Schlesser. El desfile me encantó (y tengo prendas ya seleccionadas para hacerme con ellas el próximo invierno), ¿qué os voy a decir? si habéis leído mi post relacionado con el desfile ya lo sabréis, y sino ¿a qué estáis esperando? aqui podéis verlo. / And running to Angel Schlesser catwalk. The show was great ( I already have selected some to get them next winter), what can I tell you? if you have already read my post of the runway, you know it by now, and if not what are you waiting for? you can see it hear.
El front row the Schlesser: Fiona Ferrer, con camisa vaquera, pantalones y chaleco camel; la modelo José Toledo, con un mini vestido azul estampado y blazer negro.Y... /

At Schlesser front row: Fiona Ferrer, with denim shirt, pants and a long camel vest; the model José Toledo, with a short print blue dress and black blazer. And...
Uno de los mejores momentos del viernes, fue cuando estuve hablando con la actriz
Paula Echevarría
de nuestros blogs, y demás, es encantadora y muy simpática, además de guapísima. El vestido que llevaba era ideal de piel en tono coral firmado por Angel Schlesser. A juego unos botines con plataforma y taconazo en negro de Stuart Weitzman y clutch de Mango. Me hice una foto con Paula pero salgo tan mal, que he escogido mejor estas dos. Por cierto, si no conoceís el blog de Paula, os aconsejo que lo visiteís
aqui
. /
One of the best moment of Friday, was when I talk to Paula Echevarría about our blogs, and more, she is charming, nice and beautiful. The dress she wear was amazing, in leather and coral signed by Angel Schlesser. To end up her look, black platform ankle boots by Stuart Weitzman and clutch by Mango. I got a picture with Paula but I look so bad that I chose to post those too in stead. By the way, if you don't know Paula's blog, you should visit it
hear
.
Hear after Schlesser catwalk. She looks pretty, doesn't she? and the dress is gorgeous.
(Courtesy of Elle Magazine)
En esta edición habían creado un espacio para la cadena de televisión Nova, pero el viernes se lo cedieron a la cadena de radio, Onda Cero, a la izquierda la locutora y ex-modelo Paloma Lago. /
In this issue Nova TV Channel has a space, but on Friday it was for the radio station, Onda Cero, on the left the broadcaster and ex-model Paloma Lago.
Aquí con Estefanía de
Con Dos Tacones
, que es simpátiquisima, y una de las bloggers españolas más populares, no se pierde una, y nos mantiene informados de todo. El bolso marrón que lleva es el modelo Birkin de Hermés./
Hear with Estefania, of the blog
Con Dos Tacones
, she is so nice and one of the most popular spanish bloggers, she doesn't miss anything and keep us informed about everything. The brow bag she wears is a Birking by Hermés.
Otro momento estupendo del día fue encontrarme con el diseñador
Modesto Lomba
, que simpátiquisimo y muy educado. Su colección para el próximo otoño-invierno, destaca por la gran cantidad de piezas básicas, ideales para incluir en cualquier fondo de armario . /
Another cool moment of the day was when I met the Spanish designer Modesto Lomba, he is super nice plus very polite. His Fall-Winter 2011-2012 highlight for have plenty of basic clothing, gorgeous to keep in any wardrobe.
Me hice una foto con Beatriz de
Necklace of Pearls
, que es un encantadora, y tiene un estilo... Lo confieso, Beatriz es mi blogger española favorita (que no se moleste nadie que hay gente muy buena). Desde que estuve en las Jornadas de Blogs de Moda, que es cuando conocí su blog, no dejo de visitarlo al menos dos veces por semana (es que no me da tiempo para mas). ¿Os suena la falda que lleva? es la misma, pero en verde, que utilize para mi estilismo en Hola.com el septiembre pasado. Beatriz lleva top de Zara, falda de Juanjo Oliva, peep toes de Miu Miu y bolso Spify de Louis Vuitton. /
Below, with Beatriz from Necklace of Pearls, she is charming, and has such a style... I admit it, she is my favorite Spanish blogger ( I hope not to bother anyone because in Spain they are gorgeous bloggers). Since I went to the Fashion Blogs Conference, when I started to know about her blog, I visit it at least twice a week ( I got no time for more) Does her skirt sound familiar? its the same model (but in green) I use for my look at Hola.com last September. Beatriz wears Zara top, Juanjo Oliva skirt, Miu Miu peep toes, and Louis Vuitton Spify handbag.
Y tras todo esto, me fui a cenar con unos amigos, y a desconectar un poco de todo. /
And after all of this, I went to dinner with some friends, and I got disconnected of everything.
El Domingo. / Sunday.
Mi segundo día de Cibeles fue el Domingo. El Sábado lo dedique a descansar y a escribir mi primer post de Cibeles, cuando llevas un blog; que al final se convierte en un trabajo de 24 horas, y además trabajas de lunes a viernes de 8,30 a 18,00, a veces tienes que parar porque no das para más. /
My second day at Cibeles, was Sunday. I dedicate Saturday to rest and write my first Cibeles post, when you got a blog, at the end it turns out to be a 24/7 work, plus if you work from Monday to Friday from 8,30 a.m to 6 p.m. sometimes you have to stop.
El Domingo tenia el desfile de
Ailanto
. Conozco a Ailanto desde sus comienzos, cuando nadie apenas sabía de su existencia, sus estampados me vuelen loca, así que imaginaros. Bueno pues me acosté tarde el sábado porque estuve de fiesta, y el domingo madrugón, para no perderme el desfile. Así que imaginaros, las 9,45 de la mañana, haciendo cola en IFEMA para poder entrar en el Espacio Cibeles, y una vez ahí, al desfile. /
On Sunday I had Ailanto's runway. I know Ailanto from the begging, when almost anyone knew them, their prints drive me crazy, so get an idea. I went to bed late on Saturday, I has went out party, and on Sunday I had a early start, to don't miss the catwalk. I was at 9,45 a.m. on line to enter to the Cibeles Space, and from there to the runway.
En el front-row estaba la actriz
Kira Miró
, que poso para mi cámara. Su look era muy casual, demostrando que look casual + pasarela si son compatibles. /
On the front-row was the actress Kira Miró that stop to get a picture for my camera. Her look was so casual, proving that casual look + catwalk also match.
At Hola.com (Hello.com) stand getting ready the model. I love those peep toes, they are from Hanibal Laguna.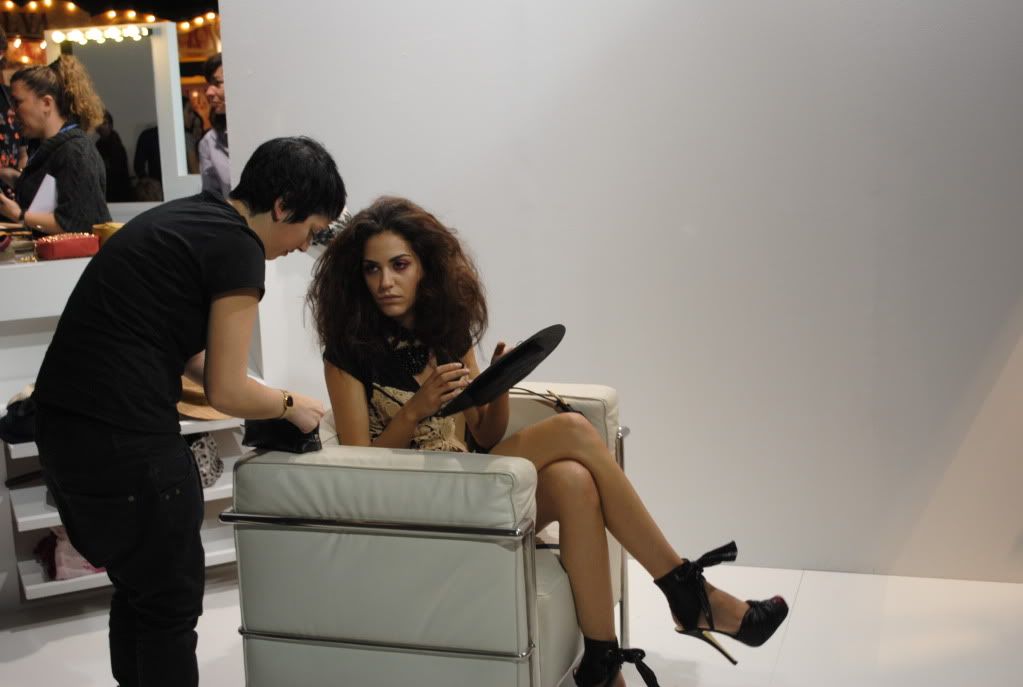 De nuevo Paloma Lago, ahora para Nova TV. /
Again, Paloma Lago, this time for the Nova TV Channel.
No paré, en ambos días: me encontré con conocidas, amigas, antiguas compañeras y gente muy interesante y encantadora. Además, estuve sacando fotos sin parar, pero no quiero adelantarme aunque os daré una pista ... mi próximo post os va ha encantar, porque es lo que me a resultado mas laborioso y cansado de Cibeles. Pero es una sorpresa y tendréis que esperar. /
I didn't stop: I met people I know, friends, old workmates, and very interesting and great peopla. Plus I took so much pics... but I won't say more... just a clue... you are gonna love my next post, stay turn to see it.
Y antes de dejaros os lo pongo mas difícil, un acertijo. ¿Quién es esa chica? ¿será París Hilton? /
Before letting you go, I make it harder, and leave you a riddle: how is that girl? Maybe Paris Hilton?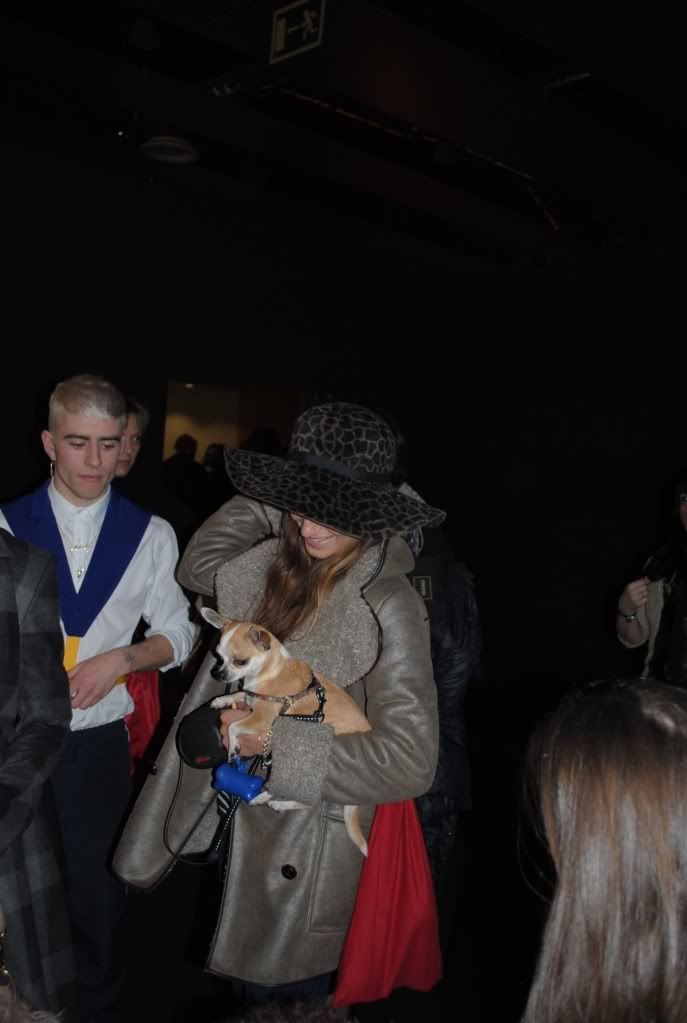 My look. / My Outfit:
Jersey/ Sweater: H&M.
Pantalones: H&M.
Botines / Ankle boots: River Island.
Collar Barbero / Necklace: Sfera.
Bracelete / Cuff: H&M
All image are taking by me and M.A. Velez for Mia's Fashion Scrapbook, but the Elle one.