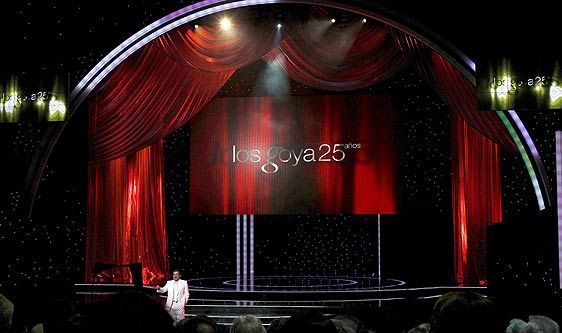 Se trata de la gala más importante del cine español, como los Cesar en Francia, los Oscar en Estados Unidos, o los Bftas en Inglaterra. Este año se celebra la 25 edición en el Teatro Real de Madrid, en una noche fría, con mucho aire y con la lluvia acechando. /
It's the most important gala of the Spanish cinema industry, as the Cesar in France, Oscars in the U.S.A. or the Bftas in England. This year it took place the 25 edition at the Teatro Real in Madrid, on a cold windy night with the rain watching.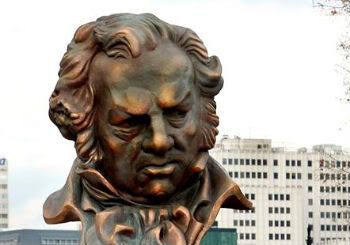 Una de las incondicionales a esta gala,
Dafne Fernandez
, eligió un vestido de encaje modelo años 50 en negro con escote palabra de honor y falda de vuelo con plumas de Hannibal Laguna.
A juego unos taconazos peep toe negros de charol y joyas de Carrera y Carrera. /

One of the unconditional of teh Goyas,

Dafne Fernandez

, chose strapless a lace 50's black Hannibal Laguan dress with puffy feather skirt. On her foots black patent leather peep toe high heels shoes and Carrera y Carrera jewels.
Una de las más guapas de la noche fue
Silvia Abascal
que llevaba un vestido palabra de honor de lentejuelas en tono maquillaje y negro, de corte sirena y con una gran cola negra de tul firmado por Lorenzo Caprile.
A juego clutch en los mismos tonos y joyas de Basile. /

On of the prettiest of the night was

Silvia Abascal

that wore a strapless nude and black mermaid cut dress with a long tulle black tail signed by Lorenzo Caprile.
As accessories a clutch and Basile jewels.
María Valverde
fue la más sexy, con un vestido rosa palo de inspiración griega corto por adelante y largo por detrás con espalda descubierta de Cindy Figueroa. ¡El collar de Bulgary de diamantes que llevaba es divino!
Para completar el look taconazos altísimos del mismo tono y joyas de

Bulgari. / María Valverde

was the sexy one, with a pale pink dress Greek-inspired short on the front and long at the back and with a back neck by Cindy Figueroa. The necklace that
tie the dress as halter neck is divine! To end up the look high heels in the same color of the dress and a georgeous diamond Bulgary necklace.
Elena Anaya
escogió un vestido de escote asimétrico y gasa en gris marengo de Elie Saab Otoño 2010.
¡Me encanta el toque que le da al recogido con la diadema dorada! /
Elena Anaya
chose an assymetric greyy gaze Elie Saab Fall 2010 gown. I love the touch that gives to her hair the gold headband!
También
Natasha Yarovenko
nos recordó a Afrodita por el vestido de corte griego en tono maquillaje que llevaba firmado por Roberto Cavalli. La parte superior estaba entallada por un c
orse y luego caía recto al suelo
. La mezcla de los accesorios no me gusta nada, por si solo son ideales, pero ¿el plata y el dorado juntos? ¡no, por favor! /
Natasha Yarovenko
also reminded us of Afrodita with a Greek-cut dress in nude signed by Roberto Cavalli. The front part was tie with a corset and then it felt straight down. I don't like at all the mix of the accessories; by itself they are great but silver and gold together? No, please!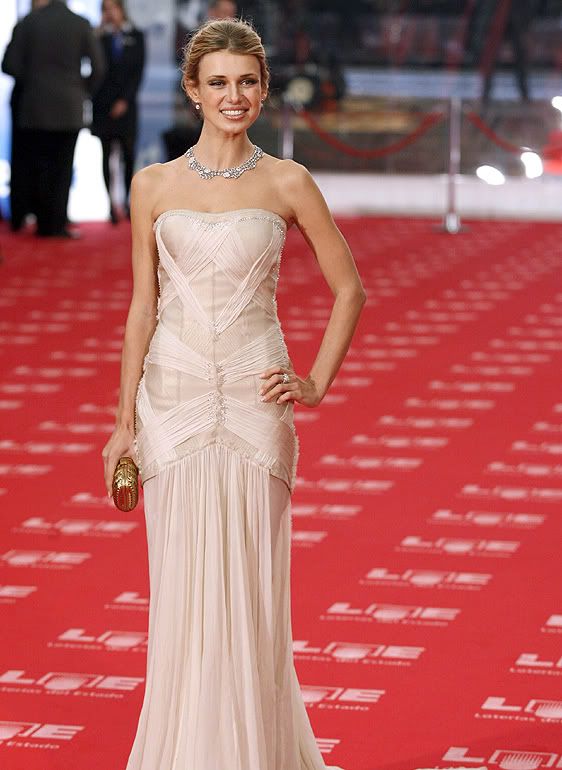 Estrenando corte de pelo, y muy guapa vimos a
Maribel Verdú
, que eligió para la ocasión un vestido negro de corte asimétrico de Dsquared2 Pre-Otoño 2011. /
With a new haircut and so beautiful was
Maribel Verdú
, that chose a black assymetric Dsquered2 Pre-Fall 2011 dress.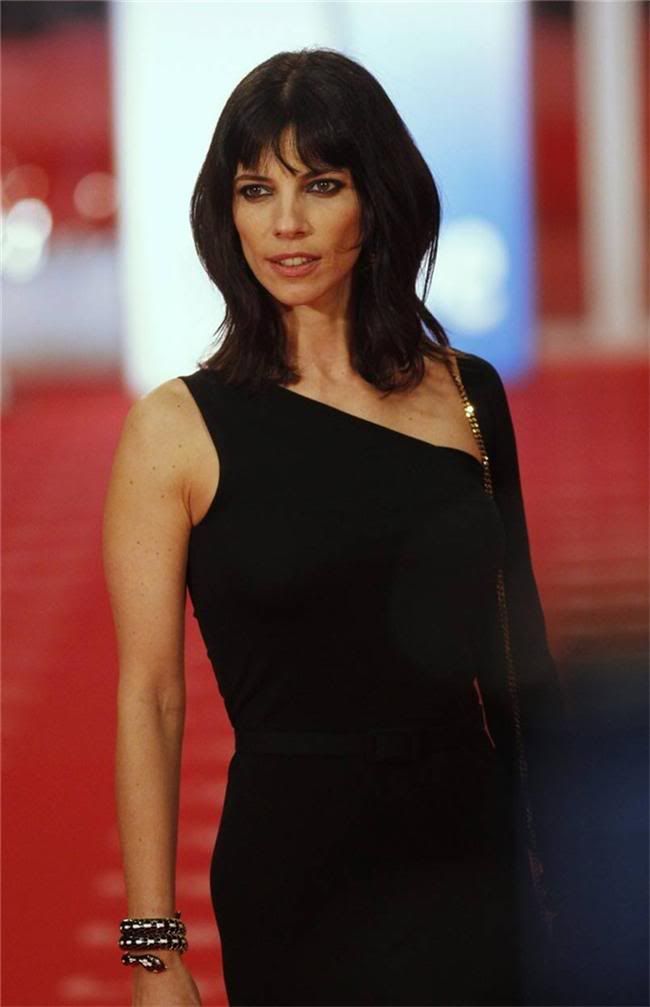 Pilar López de Ayala
iba un poco sosa para mi gusto, con un vestido negro de encaje y transparencias firmado por Chanel. A juego peep toe negros con un lazo un tanto cursi. ¿Y qué os parece el peinado?
Un poco exagerado ¿no? / Pilar López de Ayala

was a little bland for my taste, with a black sheer and lace dress signed by Chanel. Matching black peep toes with a preppy ribbon. And what do you think about her hairstyle? over exaggerated, no?
Carolina Bang
pisó la alfombra roja con un vestido ajustado de corte sirena y escote pronunciado de Hannibal Laguna. Como accesorios clutch negro, y gargantilla en tonos verdes de Bárcena, la gargantilla era lo mejor de todo el look. /
Carolina Bang
step on the red carpet with a tight mermaid cut and plunging neckline Hannibal Laguna dress. As accessories a black clutch and a green tone Barcena necklace that was the best of the whole look.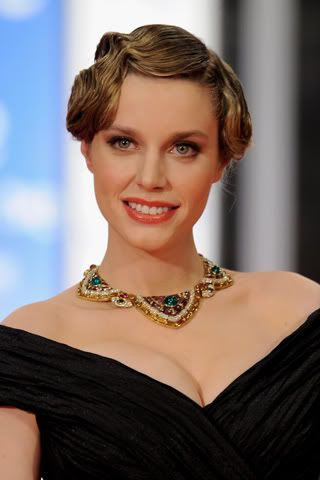 La mujer de Santi Millán,
Rosa Olucha
, escogío un vestido de Pedro del Hierro en blanco y negro. /
Santi Millan's wife,
Rosa Olucha
, chose a black and white dress by Pedro del Hierro.
Leonor Watling
iba acompañada de su marido y luciendo embarazo. Para la ocasión eligió un vestido estampado en tonos azules y verdes, con escote en forma de V de Miriam Ocariz. /
Leonor Watling
was accompanied by her husband and pregnant. For the occasion she chose a blue and green print dress, with v neck by Miriam Ocariz.
Aitana Sanchez Gijón escogió un vestido muy escotado en tonos grises de Carolina Herrera. / Aitana Sanchez Gijón chose a very open neck grey Carolina Herrera dress.
De coral y raso iba
Manuela Vallés
con un vestido palabra de honor y corte recto de Arman.
Como
accesorios, cartera plateada y joyas de Bulgari. /

In

coral and satin was

Manuela Vallés

, with a stapless straight cut dress by Arman.
As accesories a silver cluth and Bulgery jewels.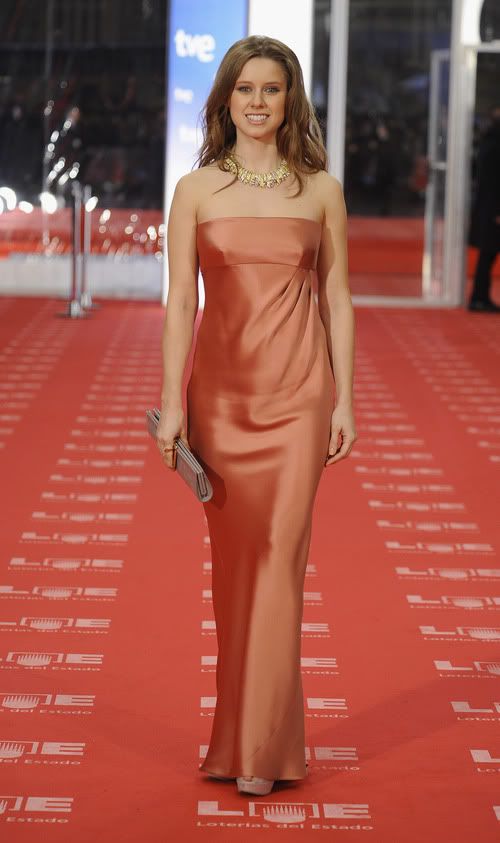 El color de la noche fue sin duda el negro, y así lo demostró
Cayetana Guillen Cuervo
con un vestido palabra de honor muy sencillo y anticuado pero elegante de Oscar de la Renta. Para dar un toque de color al look escogió un clutch de Roger Vivier y joyas de Carrera y Carrera. /
The night color was without no dude the black, and so
Cayetana Guillen Cuervo
prove it with a strapless easy and old time but elegante dress by Oscar de la Renta. To give a touch of color to her looks she got a Roger Vivir clutch and Carrera y Carrera jewels.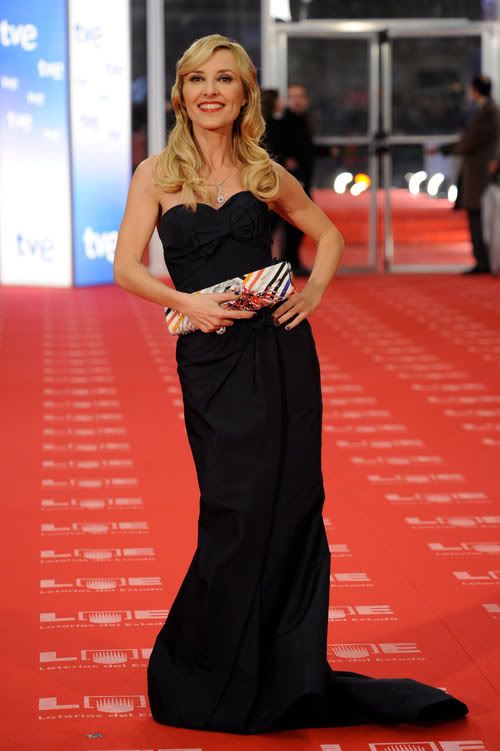 También de negro vimos a
Belén Rueda
con un vestido largo de Gucci. Para completar el look sandalias marrones de Gucci y clutch de estampado leopardo. /
Also in black was
Belén Rueda
with a long dress by Gucci. To end up her look, brown Gucci sandals and leopard print.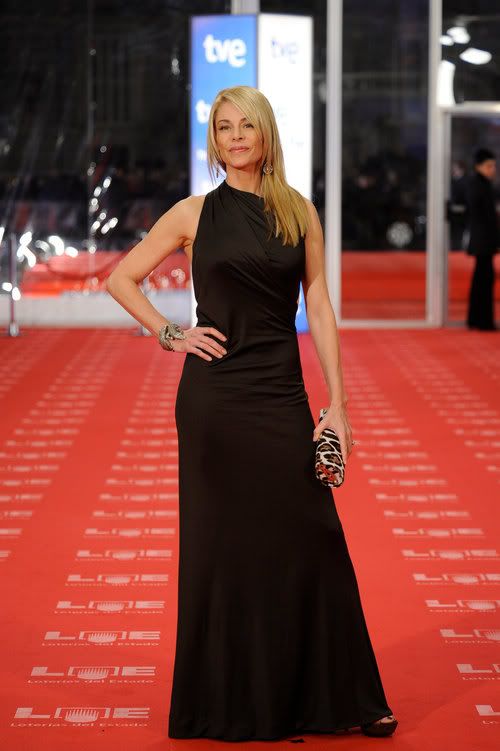 De negro y un poco indiscreta vimos a Nawja Nimri, con un vestido largo negro de encaje de Dolce & Gabanna, y zapatos de Jimmy Choo. /

In black and no so appropied we saw

Nawja Nimri

, with a long lace dress by Dolce & Gabanna and Jimmy Choo pumps.
Ya sabéis que no hablo mucho de estilo masculino en el blog, pero no puedo dejar pasar el de
Mario Casas
que iba con smoking de Dior, ¡que es guapísimo! Respecto al resto de los looks masculinos destacaron los de Gucci y en especial el de
Luis Tosar
. /
You know I don't talk much about male style on teh blog but I can miss
Mario Casas
that wore a Dior smoking, who was gorgeous! About the rest of the male looks highlight the onces in Gucci especially Luis Tosar.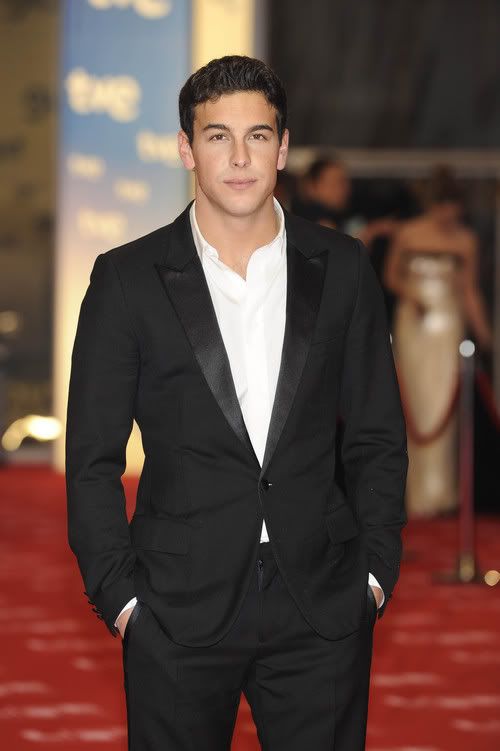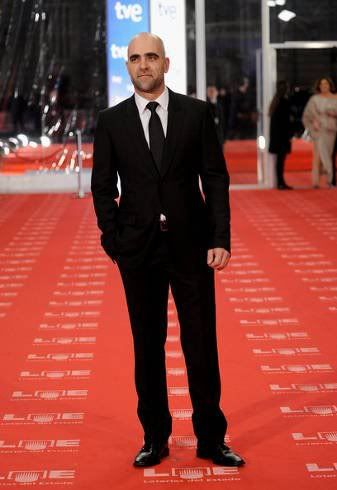 Y como colofón,
Noelia López
que iba acompañada del perro más famoso de España,
Pancho
, ambos estaban graciosisimos. /
And as postscript,
Noelia López
that comes along with the most popular dog of Spain,
Pancho
, both were so funny.
En resumen, las actrices españolas dejaron claro que el color de la noche era el negro y la verdad, tampoco se vio ningún modelo que dejara la piel de gallina sino que más bien se lucían poco, no se. Además, la mayoría de los modelos eran de diseñadores extranjeros, y volvemos a lo mismo ¿porqué no apostar por los españoles? En una ceremonia tan importante como está, donde se expone España al resto del mundo ¿porqué no mostrar lo que valemos? Se habla de crisis, y en vez de explotar lo que tenemos positivo, nos vamos a buscarlo al exterior.
¡Con la buena costura que hay en nuestro país! /

As summary, the Spanish actresses make clear that the color of the night was black, and so I didn't saw any model to give goosebumps but rather they look no stunning. Plus most of the dresses were from foreign designers and we go back to the same thing as always, why not go for the Spanish designers? In a ceremony as important as this one, where Spain is expose to the world why no show our worth? They speak about crisis so much and instead of exploiting what we have positive we look aboard. With such a great seam in our country!
Mi modelo favorito, el de Elena Anaya, aunque sin duda Elie Saab tiene vestidos mucho más impresionantes. ¿Y a vosotros quién os parece que iba mejor? /

My favorite Elena Anaya dress but Elie Saab has nicer gowns. And so what do you think that was better dress on the Red Carpet?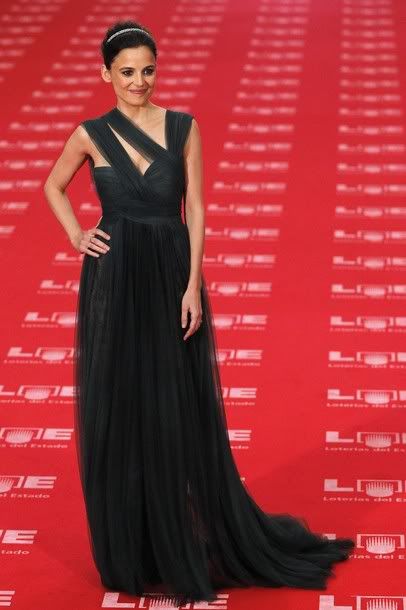 Sources: El Mundo.es, Hola.com, Style.com, foros Vogue.